About Authors Live
Authors Live is a series of live webcasts, presented in partnership with Scottish Book Trust, featuring some of the biggest names writing books for children today.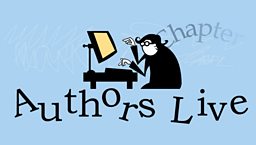 Information about the project
The series began on Thursday 4 March 2010 – World Book Day – with two sessions featuring children's poet and former Children's Laureate Michael Rosen.
Edited highlights of the sessions will be available soon after the live events. Information about support materials for use in the classroom can be obtained from Scottish Book Trust's Authors Live pages.
Send us in your questions
In the build up to the live event we're always on the look out for the questions which will get the visiting author to reveal some fascinating insight into their life and work. So, please use the link below to send in your questions.
The more brilliant and original your questions, the more chance they will have of being asked during the live event!
Don't worry, we'll not keep your email address or use it to contact you.
Test Connection
You can use the iPlayer Diagnostics tool to confirm that your connection speed will be suitable to run the live stream. Once this diagnostic test is complete and you see a green tick next to the 'TV 500 kbps' you should be good to go. If you don't then you will have difficulties.
Partners
Authors Live is produced in association with the Scottish Book Trust and Creative Scotland. Scottish Book Trust is the leading agency for the promotion of literature, reading and writing in Scotland and their Authors Live programme is funded by Creative Scotland's First in a Lifetime Fund. The Authors Live webcasts are also available through Glow - the world's first national intranet for education allowing joined-up working the length and breadth of Scotland.