Law Overview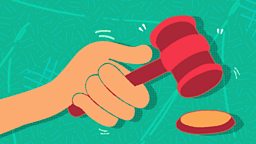 How you are treated if you are deemed to break the law will change depending on how old you are. Have a little look at our breakdown.
If you are aged ten but under 14 years old you are considered to be responsible for a criminal offence
A child under ten is not considered to be capable of deciding whether an action is right or wrong. They cannot be taken to court and charged with a criminal offence.
If you are aged ten but under 14 years old you are considered to be responsible for a criminal offence and are treated in the same way as any young person under 18. This means that you can face criminal proceedings, although your case will normally be dealt with in a youth court.
If you're 14 or over, you will normally be expected to give evidence as a witness under oath. If you're under 14, you'll normally give evidence without swearing an oath. If you're under 18 (17 in Northern Ireland), the court may help you to give evidence using special measures. You may be able to give evidence:
via live TV link
from behind a screen
via a video-recorded statement
If you are 16 or over and have been involved in anti-social behaviour, you may be issued with a penalty notice. There's more info on our Crime & Young Offenders page.
If you are under 18, you cannot normally start court proceedings in your own name and a litigation friend (next friend in Northern Ireland) - usually your parent - must act on your behalf
It's all about age
Children can receive a range of types of youth sentences. If it's your first charge and you appear at court and plead guilty, you could be given a Referral Order, where you have to meet with a panel to agree a contract to repair any harm done and stop you doing it again.
There are also Youth Rehabilitation Orders (YROs) which are community sentences given to children. This could be anything from supervision meetings with your Youth Offending Officer, requirements to undertake education or comply with a curfew or to complete unpaid work such at cleaning graffiti off a wall (unpaid work only applies to 16 and 17 year olds.
Anti-Social Behaviour
Anti-social behaviour includes vandalism, graffiti and intimidation. Anti-social behaviour civil injunctions can be given to any child who is aged 10 or over if a youth court thinks a child has engaged in anti-social behaviour but the YOT will usually have to be consulted. Breach of a civil injunction by a child 14 years or older is punishable with a civil detention order of up to three months.
If you've committed a number of anti-social behaviour offences, you could be given a Criminal Behaviour Order, the new "ASBO". This is a court order that can stop you going to a certain area or spending time with certain people. It is an offence to break the order and you can be arrested and taken back to court.
The law and you
At 12 you can see a 12A film unaccompanied
At 13 you can get a job
At 14 you can go to a pub and buy yourself a non-alcoholic drink
At 15 you can buy or rent a 15 rated film
At 16 you can have sex, gay or straight (providing your partner is also 16 or over)
At 17 you can drive a car
At 18 you can buy alcohol
BBC Advice factfiles are here to help young people with a broad range of issues. They're based on advice from medical professionals, government bodies, charities and other relevant groups. Follow the links for more advice from these organisations.
This fact file was updated on 22 June 2017