You are right - this is the fake.
This has been made in China from incorrect material with a fake mark added to the base to make it look like a genuine Moorcroft Cornflower vase.
Our ceramics expert Will Farmer says don't worry though as he estimates that 99% of Moorcroft on the market is the real deal. If however something looks too good to be true, well it probably is and there are some key things to look for to spot a fake: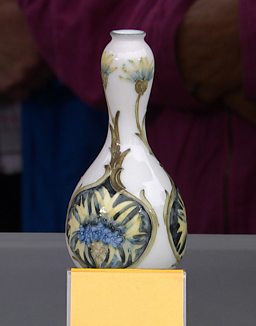 Check the material the vase is made from is correct. Original Moorcroft is made from earthenware while many of the modern fakes are made from porcelain.
There are two major differences between earthenware and porcelain, colour and weight. Porcelain is much whiter and doesn't weigh as much as earthenware so the copies feel lighter in the hand.
Arm yourself with a good strong torch. The porcelain copies are particularly transparent and if you hold the torch up to the body of the vase you will see the light pass through it. The original examples are opaque.
Familiarise yourself with as many original examples as you can. Look at the tube lining and decoration and see the quality of the craftsmanship. The forgeries are tube lined in the same way but the technique leaves a lot to be desired and mistakes in the application reflect poor quality.
Moorcroft is always marked. There are a wide range of marks which include printed, painted and impressed and every piece that left the factory bears some form of identifying mark. If yours is blank, walk away!
There are many educated dealers and auctioneers out there handling the many genuine pieces of Moorcroft which come up for sale each week. Forge a relationship with one and handle as many pieces as possible.
Get the app that lets you join in by guessing the values of items featured in the show.