Chris Turner on his BBC New Comedy Award experience
Chris Turner chats about taking part in the BBC Radio New Comedy Award 2011.
After claiming victory in his Cardiff heat, Chris Turner miraculously managed to balance completing a degree at Oxford University and the BBC Radio New Comedy Award, graduating from the final in 2011.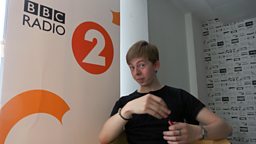 Now a successful performer both solo and with his improvisational comedy troupe, Racing Minds, we caught up with Chris to talk about girls, Iceland and meeting Rhod Gilbert…
Why did you want to become a comedian?
I decided I wanted to be a comedian because there was a girl I liked who I wanted to impress and I thought that the best way to do that was to go on stage and make people laugh. I ended up going out with her and then found out that she would have preferred it if I'd stayed doing music… but I'm still doing it and I'm still going out with her, so that's alright!
Tell us about a highlight from the 2011 competition
The semi-final was awesome. That was at the Bath Komedia, which is a beautiful venue. You had 400 people there and stepping out on that stage with the glittering backdrop and an audience full of people waiting to see the 'comedy stars of tomorrow'… that was really incredible to have.
Did you meet anyone famous?
I met Rhod Gilbert at the heat, which was great as he was judging it. We had a chat until about 2am in Cardiff. The stuff he said to me I've seen coming true… the way he thought I'd develop. He said "In three years, I don't think you'll be doing what you're doing now, but I think you'll still do those kind of jokes"
Has anything happened as a direct result of the award?
I had an old couple come up to me [at a gig] who said "why are you here?!" I thought, okay, this is quite exetensial, but it turns out that this was their local comedy night and they'd heard me on BBC Radio 2. They were amazed that someone they'd heard on the radio was in their village.
Another thing was, because the heat was filmed, I got a showreel of it. We put it on You Tube and it's had 84,000 views. A month after I put it up, it went really big in Iceland!
Any advice for this year's competitors?
My advice to people in the heats this year is to be certain of your set. Don't go out there with new material that you're not sure of. Take that five minutes and drill it so you know that every word is in there for a reason. You want to go out there and showcase that five minutes to define yourself as a stand-up. That could be twenty jokes or one long story – you want to package yourself as an act. If everything you say is perfect and you've got it down, that's going to give you the best chance in the competition.
More from the BBC New Comedy Award