Postcards from Alice
THIS HAS NOW CLOSED
Did you spot your 'Postcard from Alice' in Luther's flat?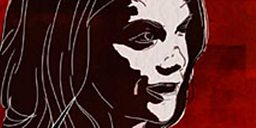 Well done to:
Jennifer Howard - New Mexico.
Gemma Dean - Eden Beach.
PS M (psmoorep306) - Marrakech.
Monique de Boer - Town Called Malice.
Maya Mina - MAYA's balcony.
Your postcards from Alice were terrific! Watch a clip of them appearing in episode 1 and episode 2 here.
--------------------------------------------------------------------------------------------------------------------------------
At the end of series two, Alice went travelling around the world to places beginning with the letter M! Along the way, Alice sent Luther postcards from the places she visited and he put them on his pin-board…
We'd like you to imagine where Alice has been and create a postcard from her to Luther. Then send it to us. We'll put our favourite on Luther's pin-board in his flat, when we're filming, so you'll be able to see it on screen. Be sure to look out for it when the series starts. We'll also be displaying a selection of them on the Luther website and on the Luther Facebook page.
Submission Guidelines
It needs to be an original photograph you've taken or a drawing you've created. It shouldn't contain third party materials, brands, or anything you haven't permission to use, this includes images of other people.
To fit with the story, the image should depict a place that begins with the letter M - Mexico, Mauritius, Morden, Margate, Manhattan, Milan, Monte Carlo, My back yard – be creative! Think about where Alice would visit.
It should include a short message (a sentence or two) written from Alice to Luther – think about what she would want to tell him.
It should be landscape dimensions, 105mm x 148mm; 6" x 4"; 1287 x 1795 pixels.
TIPS
By post: Stick your own image onto a spare, blank postcard and write the message on the back.
By email: JPEGs are ideal, but a PNG or PDF is also okay but no bigger than 5mb please. Attach your image or photograph and include Alice's message in the email text and we'll print them out and make them into postcards.
Keep it clean! No obscene, defamatory or pornographic content please.
Email or post it to us so we have time to use when we're filming - this means no later than Sunday 16th December 2012.
Luther writer and creator, Neil Cross will choose which one makes it onto Luther's pin-board.
We are unable to return postcards, sorry.
Neil's decision is final, we can't enter into conversations about that.
We will publish your supplied name next to the postcard in our online gallery unless you specify otherwise.
We take no responsibility for entries that are lost, delayed, misdirected or incomplete or cannot be delivered for any technical or other reason.
Any personal data submitted by you will be used solely in accordance with current UK data protection legislation.
Send To...
Post: Luther Postcards, BBC Drama, Lighthouse Building, 201 Wood Lane, London W12 7TQ
Email: lutherpostcards@bbc.co.uk
Watch a clip of them appearing in episode 1 and episode 2