Main Grants: Should I apply?
Our Main Grants programme is open to charities and not-for-profit organisations applying for grants over £10,000 per year for up to three years. Check the information below to see if your project should apply.
If you are looking for any amount up to £10,000 for one year, see Small Grants.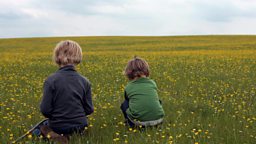 We give grants for...
Children and young people of 18 years and under experiencing disadvantage through:
Illness, distress, abuse or neglect
Any kind of disability
Behavioural or psychological difficulties
Living in poverty or situations of deprivation
We fund organisations working to combat this disadvantage and to make a real difference to children and young people's lives.
Who can apply?
Not-for-profit organisations that work with disadvantaged children and young people of 18 years and under who live in the UK, the Isle of Man or the Channel Islands.
If your organisation currently has a grant from us, you can apply for further funding providing your current grant is coming to an end within the next 12 months. You will need to be able to provide convincing evidence of the differences our grant has made to the lives of the disadvantaged children and young people you have worked with.
We DON'T give grants...
For work which statutory bodies (such as schools or local authorities) have a duty to fund
To local government or NHS bodies
For building projects applying to us for more than £20,000
For projects which promote religion
To fund trips or projects abroad
For medical treatment or research
For pregnancy testing or advice, information or counselling on pregnancy choices
For awareness-raising work, except where it is targeted at those children or young people most at risk.
For bursaries, sponsored places, fees or equivalent
To individuals (unless an eligible organisation is applying on their behalf or through our Emergency Essentials Programme). 
To be passed on to other organisations, for example, PTAs applying on behalf of schools
For general appeals or endowment funds
To help with budget shortfalls or debt repayments
To projects where the grant expenditure is due to start before the grant award date (retrospective funding)
To organisations which have applied in the last 12 months
To projects unable to start within 12 months of the grant award date
For unspecified expenditure
For organisational overheads or running costs which the organisation would incur whether the project was running or not. (Although we will consider funding support costs incurred as a direct result of running the project.)
It is very important that you refer to our online A To Z Guidance to make sure you don't waste time applying for things we don't fund. You will find valuable details on our policies here - some are relevant to every project (for example Child Protection) and some are important for certain types of project (for example counselling projects or projects seeking funding for equipment).
How much to apply for?
Our Main Grants Programme is for grants over £10,000 to support projects for up to three years.
There is no upper limit for Main Grants but we make very few grants over £100,000 and most grants are for much less.
Each year we are asked for much more money than we are able to give. Requests for larger amounts are always more competitive.
If you wish to apply for a smaller amount our Small Grants Programme or our Emergency Essentials Programme may suit you better.
How to apply
Plan your project carefully. You may find our guide to Planning Your Project useful before you complete your application. Poor planning is a common reason why applications are not successful.
Read our A to Z Guidance to help you make sure you only apply for things that we can fund.
We have a two stage application process which will enable us to let you know quickly whether we'd like to see a full application.
Use our online application system to complete an Initial Application and to submit additional information.
At the start of the application form you will be required to complete an eligibility quiz, please answer this carefully as it tells us whether your project is one we are able to fund. You will be asked to provide evidence for these answers during our assessment process.
The most common reason applications are unsuccessful is because not all the required extra information is included. If you have any questions about what you need to submit please refer to our FAQ or contact us.
We don't assess applications:
which are ineligible
which have information missing
with questions that are not answered
When to apply
See the table below for more information.
| Initial Application Deadline | When is the final decision due? |
| --- | --- |
| 15th May | Mid Oct |
| 15th Sep | Mid Feb |
| 15th Jan | Mid Jun |
What happens next?
All applicants will be contacted two weeks after the initial application deadline. If your initial application is invited to the next stage you will be asked to complete a full application form. You will have a month to complete a full application to be considered in the next round.
You will need to be available in the month after you submit your full application for a telephone assessment. Your referee will also need to be available during this time to provide a reference.
For an example of the second stage main grants application form please click here. Remember you must complete this online and you will be invited to do this if your first stage application is successful.
If you have a general enquiry, are unsure about anything you have read or are looking for support regarding your application please contact our helpdesk on 0345 609 0015 or at pudsey@bbc.co.uk. Our helpdesk is open from 9am-5pm Monday to Friday. You can also contact your local regional or national office.