Gap Year - Is It For You?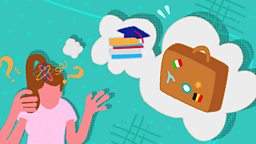 Thinking about taking a year out before going to university? You may feel pressured one way or the other, but it's important you make a decision that feels right for you.
Try not to let fear of the unknown put you off seeing the world
What is it?
It's a year out between finishing school and starting university in which you can travel, work and do mind-broadening stuff you'll never forget. There are different types of gap year – from volunteering abroad for a charity, travelling the entire globe or settling in a different city for a while.
It will often help you feel less nervous about going to university, help you to stand on your own and give you a broader outlook on life.
I don't want to travel, but I don't know what I want to do at university
You'll have a good three months between finishing your A Levels or Highers and university Clearing (when vacancies on courses for the coming academic year are advertised), which gives you a bit more time to think without the pressure of exams.
If you really can't decide, you can ask the university about deferring your entry and work for a year while you get a better idea of what it is you want to do. Many people don't go to university for many years after completing their A levels – don't rush into a decision if it doesn't feel right.
I need to make some money before starting uni
Fair enough. But don't get comfy and decide not to get a full-time job. Spending a year relying on others for cash will not give you any independence, and you'll have nothing to say when future employers ask what you did on your gap year. Gap years are great for gaining life experience, and while you don't need to go abroad for that, it helps if you fill your time with things that will enrich you as a person and give you something to talk about to prospective universities or employers.
I'd love to travel, but I can't afford it
Loads of gap year students work for the first six months and then travel using the money they've earned in the second six months. This is still plenty of time for you to have loads of amazing experiences before you get back into education. You can also work abroad in many cases, so you can earn along the way.
Bear in mind that there are loads of trips to suit different budgets. A round the world trip will cost thousands, but a train ticket around Europe will be a few hundred. You may choose to go away for a few months, rather than the whole year. While you will need to budget for travelling, you don't want to be so skint that you can't enjoy it. You can still go away on a smaller budget so don't let that put you off, you just need to be more practical about what you do.
I'm scared
Try not to let fear of the unknown put you off seeing the world. It could be the making of you. Earth is a big planet, but when you travel it seems much smaller (and even the most remote countries have email access!). There are things you can do both before you set off and along the way to look after yourself. Head to gapyear.com where loads of people have talked about their gap year experiences.
Many people who've travelled would describe it as life-changing, and some of the best experiences of their lives. Not bad...
Placements
Organised placements are a great way of doing something you're really interested in away from home. From teaching at a summer camp in America, to elephant conservation work in Zimbabwe, there's definitely going to be something for you. Most placements are set up by organisations or charities, but it's important you research the options before you commit to anything. Take a look at The Site's guide to Researching Your Gap Year Placement for more info.
BBC Advice factfiles are here to help young people with a broad range of issues. They're based on advice from medical professionals, government bodies, charities and other relevant groups. Follow the links for more advice from these organisations.