BBC One - Comic Relief 2015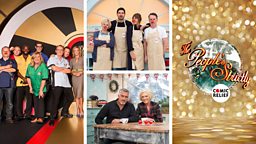 Get your seat at the Palladium
Red Nose Day is coming to you from the London Palladium on Friday 13th March 2015. Please note that there are age restrictions in place.
Get your free Fundraising Kit
From sponsorship forms to help rake in the money to posters to promote your activity, it's full of ideas, tips and tools to make fundraising a doddle.
Get Bake Off bits and bobs
Get your own Bake Off apron, recipe book and our free Bake Off Kit. They're essential ingredients for any bake sale.
Whatever you are doing to Make Your Face Funny for Money, snap a selfie and find out how your #rndface can be a part of the Red Nose Day campaign.

Join Claudia and a host of celebrities for a six-hour dance party extravaganza at the first ever Comic Relief Danceathon.

If, like us, you love sparkly things, then check out the fabulous People's Strictly Sparkle Pin Badge.
For easy ways to join in, hold a fundraising darts tournament of your own, or download a sweepstake poster.

Get your Red Noses, T-shirts and everything else you need to show your support for Red Nose Day!

Your money will not only help to refurbish this clinic, but will also be spent improving healthcare for communities across Africa.
He's a one-man non-stop never-ending shape-throwing move-busting body-popping Red Nose Day legend. See what he's doing and how you can support him.

We want schools and nurseries to fundraise and help 300,000 kids in Africa into education and learning.

When you fundraise for Red Nose Day you'll help to transform people's lives, right here in the UK and across Africa.