BBC One - Comic Relief 2015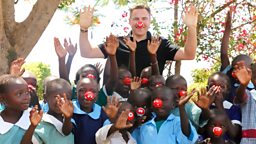 Thank you
Thank you so, so much. Your incredible generosity has helped to raise a staggering £78,082,988 so far!
Make a donation
You're about to do something really incredible. The money you donate will make a huge difference to people both here in the UK and across Africa.
Pay in the money you've raised
Brett Domino rises to the challenge of writing a hit charity song in record time.

Mark Watson and comedians such as Emma Kennedy, Adam Hills, Jennifer Saunders and Tim Minchin took to the stage to raise money for Comic Relief 2015 in a 27-hour comedy marathon!

Check out David Walliams' Little Britain character Lou meeting Professor Stephen Hawking - Catherine Tate also makes an appearance!
This Red Nose Day we've raised £78,082,988 so far – taking the total amount raised by Comic Relief to more than £1billion. On behalf of everyone that money has helped… Thank you!

The cash you raise makes an incredible difference, right here in the UK and across Africa. Find out more about the work that we do.

You've raised the cash, now bask in the glory. Upload your pictures and show us, and the world, what you got up to this Red Nose Day.