Sheffield – In Your Words
Sheffield wordcloud
A few weeks ago we took BBC Radio 5 live to Sheffield for Octoberfest.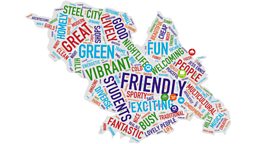 We joined up with BBC Radio Sheffield and asked you to tell us three words that you thought best summed up the city.
We collected thousands of words during our three day festival in Tudor Square, not to mention all of your tweets, Facebook comments and emails.
Here's the final result – Sheffield, In Your Words.