BBC Arts is at Hay Festival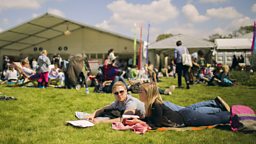 The Hay Festival (Finn Beales)
BBC Arts Online takes the audience to Hay Festival, publishing daily content, including live streams of some of the headline events and regular festival digests.
It is part of the BBC's major new three-year partnership with the annual Hay Festival, which runs from 22 May to 1 June 2014.
This is the strongest commitment to Hay Festival we've made

Tony Hall
The comprehensive coverage has informed the choices of the first authors to feature as part of our Books at the BBC strand, including Jung Chang, Helen Dunmore, Sebastian Faulks and Toni Morrison who will appear at the festival.
This year there is a dedicated tent of BBC events, UK-wide television coverage will be provided via The One Show, which will broadcast from the festival for the first time, while the comprehensive radio coverage features a range of diverse programmes across network radio stations BBC Radio 2, Radio 3, Radio 4 and 6 Music.
Martha Kearney is broadcasting from the site, and Razia Iqbal will be interviewing Toni Morrison, Jung Chang and Karl Ove Knausgaard for five special programmes of Talking Books on BBC World News.
BBC Four is also making a one-hour documentary about the festival and the book-loving town of Hay on Wye. There is also a local flavour to the coverage, with the BBC's services in Wales committing to the festival.
Tony Hall, Director General of the BBC, says: "This is the strongest commitment to Hay Festival we've made. Our coverage this year will demonstrate our ambition to join up arts on the BBC like never before – across television, radio and digital. By doing so we can give the public access to the greatest writers, performers and thinkers in a way that no one else can."
Founded in 1987, the festival attracts the most thrilling writers, filmmakers, comedians, politicians and musicians from across the world.
Author collection
Award-winning author of novels for adults and children, and several poetry collections.

The poet, journalist and author famous for Cider with Rosie and his autobiographical works

Discussing his life and books on Arena in 1993, originally broadcast to mark his 60th birthday.