Inside Out
Surprising real-life stories and investigations from your region in England.
There are 11 regional variations of the Inside Out TV programme. Please select your region from the list.
Inside Out is on air from Monday 1 September 2014 for its autumn series.
Select your region's Inside Out programme
Andy Akinwolere presents investigations and current affairs stories from the West Midlands.

Toby Foster takes a closer look at current affairs stories from Yorkshire and Lincolnshire.
iPlayer highlight - North West
Watch BBC Inside Out North West on the iPlayer.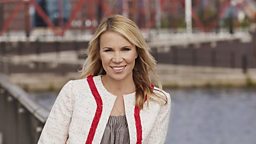 Dianne Oxberry
As commuters call for improvements to transport links across the north, Jacey Normand travels by rail and road to put the rush hour commute to the test. As health trusts struggle to deliver NHS staffing targets for nurses, Elaine Dunkley discovers why north west hospitals are going abroad to recruit. And Chris Jackson reports on the handful of 'thankful villages' that saw all their young men return safely from the First World War.
About Inside Out
Frequently asked questions about BBC Inside Out
Archive - London's property millionaires
BBC Inside Out meets the Londoners living their dreams after making millions from the sale of their properties following the 2014 property boom.