Inside Out
Surprising real-life stories and investigations from your region in England.
There are 11 regional variations of the Inside Out TV programme. Please select your region from the list.
Andy Akinwolere presents investigations and current affairs stories from the West Midlands.

Paul Hudson takes a closer look at current affairs stories from Yorkshire and Lincolnshire.
Highlight: 'Botox parties'
Two disgraced nurses are making thousands of pounds a week illegally prescribing Botox to patients. BBC Inside Out has uncovered the two men staging "Botox parties" in homes and beauty salons for people desperate to banish wrinkles.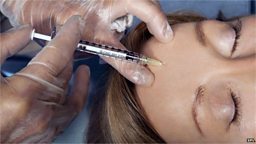 About Inside Out
Frequently asked questions about BBC Inside Out