Inside Out
Surprising real-life stories and investigations from your region in England.
There are 11 regional variations of the Inside Out TV programme. Please select your region from the list.
Inside Out is on air from Monday 1 September 2014 for its autumn series.
Select your region's Inside Out programme
Andy Akinwolere presents investigations and current affairs stories from the West Midlands.

Toby Foster takes a closer look at current affairs stories from Yorkshire and Lincolnshire.
Pensions Survey
BBC's Inside Out survey reveals new evidence on why millions of British adults do not have a private pension.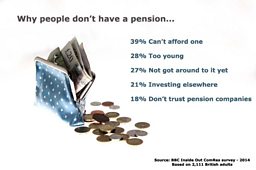 Pensions survey
Around half of British adults aged between 18 and 60 (48%) said they did not have a pension. Being unable to afford a pension right now is the primary reason given for not having one (39% of those without a pension gave this reason).
There are clear differences in the take up of private pensions by gender, age and socio-economic grade. More than two thirds (67%) of adults in the AB socio-economic grades have a private pension; compared with less than a third (31%) in DE grades, according to the ComRes survey.
Perhaps most interesting for the pensions industry is the fact that one in five (21% of those without a pension) say they are investing their money in other schemes such as property and long-term savings.
A similar number of people without pensions (18%) say they don't trust pensions companies while 14% think pensions are "too confusing" and the same proportion (14%) believe they wouldn't get a good enough return on the money they invested.
Will you cope on your pension?