Item 4: Rosewood box
A Victorian rosewood jewellery casket of sarcophagus form, inner tray lacking.
£15 paid by Catherine Southon.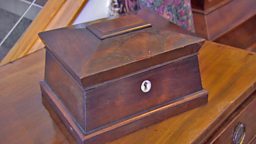 £20-40 auction estimate.
Pick this item for your Bonus Buy
If you're game and want to take part in the show. This is where you can fill in the online application form.