BBC Fresh Profile: Robin Fearon
Film-maker Robin Fearon has had two films on very different subjects showcased on BBC Fresh.
The cultural importance of tattoos and the lure of a botanic garden led Robin into filmmaking.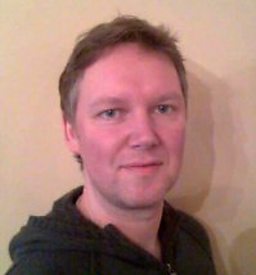 How/why did you get started in documentary filmmaking?
Most of my work is as a video and mobile journalist and I'd been looking for subjects locally to create short films. A friend of mine recommended speaking to Martin (the subject of Skin You're In) about his ideas. He was using a new technique at the time to brand the skin rather than tattoo it and is involved in the 'gentle swastika' movement. This short was meant to be an introduction to a much larger subject.
Why did you pick these subjects for Fresh?
Skin You're In: Tattoos are part of a large cultural movement involving millions of people in the UK, that includes body modification and scarification. I'm interested in it as I don't have any tattoos or body mods. The subject is fresh because it is huge, part of mainstream culture (David Beckham's tattoos etc) and yet it has its fringes that are more extreme, more interesting.
Hothouse Flower: I picked the subject for several reasons. A lot of people volunteer because they love what they are doing or they are passionate about it. Green spaces, fragile eco-systems and healthy lifestyles are all part of the narrative and many young people care deeply about nature and looking after our habitat. It looks like they may not get the opportunity to get along to Moorbank to see the hothouse plants because the lease has not been renewed and so I also wanted to record some of the incredible plants there for future generations.
What motivated you to make these films?
Skin You're In: I had time on my hands and Martin was keen to make a film that might get across his ideas and methods.
Hothouse Flower: I love nature and the opportunity to film exotic tropical plants sounded too good to be true. That and the fact that Lindsay's enthusiasm came across so clearly was all the motivation I needed.
What camera did you use to shoot your films?
It was decidedly low-tech. I used a mobile (phone) camera - the LG 2X P990.
Who/what inspires you?
People like David Lynch and Werner Herzog. Generally I love documentary film. I saw Josh Oppenheimer's The Act of Killing recently and that was amazing.
What are your plans for the future?
Generally, I want to keep on rooting out interesting subjects and making narrative-style films as well as increasing my video-journalistic skills.
Also, to make a longer documentary and investigate live cinema perhaps. I saw clips of the Light Surgeons' SuperEverything and that blew me away.
What is the most important thing you have learned so far?
Learn about the limits of your technology. Also, happy accidents really help. Put in the hours and you will be rewarded.
Film-makers explain how to build trust with your contributors.