Kerry's Book Club
Join in and become a member of Kerry's book club.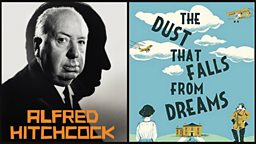 ALFRED HITCHCOCK by PETER ACKROYD.
Published by Chatto and Windus
Many biographies have been written about Hitchcock but this one is just 280 pages and is written in flowing prose style. Peter Ackroyd immerses himself in Alfred Hitchcock's east London roots and he has an instinctive feel for where Hitchcock was born in 1899. There are many stories about his early life - such as how he always was scared of the police. He had quite a lonely and sheltered childhood which wasn't helped by the fact that when he committed a minor misdemeanour his father conspired with local policeman to have him locked up in a cell for a few minutes.
THE DUST THAT FALLS FROM DREAMS by LOUIS DE BERNIERES

Published by Harvill Secker
The latest novel by Louis de Bernieres probably best known for his book 'Captain Corelli's Mandolin'. This is a historical novel charting the life of a family for a period of 25 years from 1902. De Bernieres traces the fortunes of a couple and their four daughters, and the lives of two other families as well. It covers the period of the First World War and has an anti-war theme. He recreates the horror of it all – the mud, lice, rats, shells and smell.
Have you read these books – what did you think?
Email us your thoughts - Kerry.mclean@bbc.co.uk.