The Listening Service at the BBC Proms 2017
Meet Tom.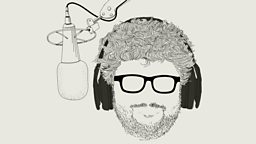 Tom Service is a music journalist and broadcaster and the presenter of Radio 3's The Listening Service. Each week he takes listeners on an action-packed journey through the history of music: using real-life examples from all genres to get to the heart of what music is, how it works, and why it matters. You can listen to all the most recent episodes here.
This year the BBC Proms are getting The Listening Service treatment with a series of mini essays that delve into the soundworld of each concert, as well as suggesting further listening tips for the bus trip home.
Join Tom as he traces sonic pathways from Sibelius to Steve Reich, from Beethoven to Wagner and from Shostakovich to Stockhausen. You'll find his exclusive notes for each Prom attached to every concert event page on the BBC Proms website shortly before the date of the concert. They're also printed in each concert programme.
Right now, you can explore The Listening Service's Proms playlist: Tom's selection of some of the most exciting and accessible music from this year's season.
Happy listening!
Tom Service edits his highlights from the 2017 BBC Proms season.

Tom Service explains how music sounds us out, reflects us and gives us the shivers.