Social Stories at Warrington Wolves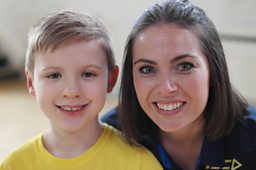 As part of our Autism Awareness Week coverage, we caught up with Craig and Leah, two BBC Children in Need funded support workers at Warrington Wolves Foundation.
In and amongst a packed schedule of lunchtime and after schools clubs, the two are using Social Stories, a technique to develop social understanding, to support children and young people on the Autism spectrum.
"It's all about preparing them, so they have an idea of what to expect"
Social Stories were created by Carol Gray in the early 90's. They were designed as a tool to help individuals on the Autism Spectrum understand context, skills or concepts that they may deal with throughout their daily life.

In Wolves' case, Social Stories are used to prepare children for particular situations, to ensure they feel comfortable and confident in taking the opportunities presented to them.

Craig, who heads up the Foundation's sports arm, describes how Katie, a young girl taking part in the weekly Autism-specific football sessions has benefitted significantly from the technique.

Despite her passion and talent for football, the prospect of playing in one of the organised monthly tournaments triggered great feelings of anxiety.

Taking the game she loved out of its regular context (travelling somewhere new and unfamiliar, playing with children she had never met before) was overwhelming to say the least, leaving her reluctant to play.
"It's important to tailor the story to their individual needs"
Working together, Craig and Katie were able to break down the plans for the day of the tournament in a short, digestible format that helped to ease her worries.

The Social Story they created detailed the different aspects of the day, such as how they would get to the stadium, what would happen when they arrived and how many games they would be playing.

Captured on a simple piece of A4 paper, the Story was told through a combination of pictures, notes and estimated timings.
Given Katie is a strong reader, Craig used appropriate language and stimulus to make the story easy for her understand, a key consideration to make depending on the individual.

In the weeks leading up to the tournament, the two would work on the story, reading and adding in new elements when necessary to familiarise her with the event and just what to expect.

By de-mystifying the source of her anxieties, Katie was able to concentrate on what mattered - playing football and enjoying the day.
That was eighteen months ago. She's played in every single tournament since.
"They all start their journey in different places…but it allows them to take their opportunities"
Katie is just one example, and of course the technique isn't restricted to Football. Wolves look to use Social Stories across all of their clubs, and have seen countless other success stories since their introduction.

This approach, alongside others, has prompted a flurry of crossover in the Foundation's sessions, with groups opting to attend multiple classes and clubs in the interest of trying new things.

Better still, the newfound sense of confidence and self-belief has left parents amazed at the scale of change, in some cases rendering their children "unrecognisable".

Talking with Craig and Leah, it's clear that whatever progress looks like, the tools and techniques employed along the way have to be right for the individual.

A genuine, trusting relationship between themselves and the children and young people they support is essential to achieving the understanding needed to inform that journey.

With that, Craig and Leah are not only able to provide them with unique opportunities, but also the tools and means to make the most of them.

Warrington Wolves Foundation is one of sixty-four BBC Children in Need funded projects that are supporting children and young people who are on the Autism spectrum.
Head to wolvesfoundation.com to find out more about the Foundation.
Head to bbc.co.uk/pudsey to find out more about our work and the projects we support.
For more information Autism, visit autism.org.uk or scope.or.uk.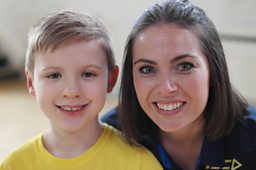 Leah, who leads the Arts Clubs, is delighted with the children's progress