Wedgwood
Wedgwood was founded in 1759 by Josiah Wedgwood, who is justly remembered as the 'Father of English Potters'.
Josiah was born in 1730 in Burslem, Staffordshire and was the the youngest of 12 children. His father had been a potter in the Churchyard works, and at age 9 upon his fathers death, Josiah had to abandon his formal schooling to work in the family business.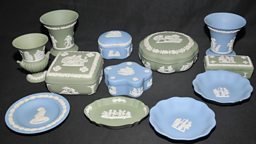 Josiah developed himself as a successful businessman, philanthropist and potter, but it was upon his creation of his 'Queens Ware' that Josiah cemented himself into the history books. Josiah had manufactured a cream-coloured tea and coffee service for Queen Charlotte, wife of George III, and she was aptly impressed as to allow Josiah to style himself as 'Potter to Her Majesty'.
Josiah's brilliance had little boundary and his invention of the pyrometer, which allowed the measurement of higher degrees of heat in kilns, created a revolution in pottery making. New stronger wares could be created, and this saw Josiah elected to the Royal Society in 1783.
Much of Wedgwood's wares are highly regarded, but most notable is his Jasper stoneware. This has been described as the most important development in the history of ceramics since the invention of porcelain some 1,000 years earlier. Josiah's last major ceramic achievement was a replica of the Portland Vase, which was made in 1789. Wedgwood's range is vast, but includes wares such as vases, teapots and services, and garden pots.
Flog It! top tips
Look out for Jasperware in blue, green, yellow, lilac, and black. Such wares are regarded as the most collectable due to their innovative history.
The most expensive item to be sold at Christie's to date is a French Ormolu and Wedgwood mounted mahogany commode a vantaux, which sold in London's King Street in September 2011 for £73,250.