Josh Cannings
To say that I was nervous about heading to Seattle with five unknown people, to take part in a treatment that was totally alien to me, would have been an understatement. As a guy that believes he is confident in most things he does, barring anything to do with my OCD, the concept was scary.
However, meeting up with Jack, Megan, Andrew, Olivia and Imogen for the first time was like meeting up with old friends. Reminiscing about adventures and mistakes caused by our one unique connection, we instantly clicked, and made us all feel a lot calmer for the journey ahead.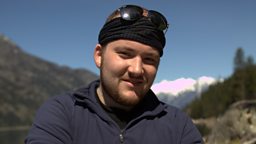 Touching down in America came quickly, and we were introduced to our therapists and the other wonderful people that made up the Blue Compass Group. Peter and Travis were our rocks for the time we were in Seattle. Travis, being my therapist, (we were split up into two groups of three), I would later consider to be one of the most kind and selfless people I will have the pleasure of meeting. Not forgetting every other member of the Blue Compass group, who were equally as inviting and selfless for a group who had a lot of wants and a lot more needs.
A few personal highlights of my journey was my exposure on day two in the North Cascade Mountains, Travis and I decided that I should take part in an exposure, which involved me touching his hand with my left hand, and then not equalising with my right, which is an extremely tough task for me as my compulsive ritual is touching everything with my left and right hands an equal amount of times wherever I go. In the extreme heat, and in such an unfamiliar terrain, I managed to not complete my ritual for over 20 minutes, which for me is astounding, and it was one of the greatest feats of my life.
Reaching such a target was a feeling I will never forget, boosted by being surrounded by people who not only knew what achieving such a goal meant to me, but knowing that my success would spur them onto greater achievements themselves. Waking up to such beautiful surroundings in the mountains was just breath-taking, and I can only wish to go back there extremely soon.
The trip was not without its low points though; the journey was one of the most uncomfortable ten days of my life. The flight out to America, the car journeys and group tasks were a massive strain on my comfort level, and really went to show how much my OCD affected my daily life. The fact that my anxiety went down in these situations, as time in Seattle went on, just went to show how much of a difference the therapy was having on me.
Coming home was a bittersweet experience. Leaving everyone from America behind was a horrible feeling. Knowing that they've made a lasting imprint on the rest of our lives, I hope that we'll be in constant touch with each other for a long time. Same to the other five guys; being on this journey with them, I couldn't have asked for a better group of individuals who deserved this change, and who deserved this opportunity. I can only hope that others will get the chance to make the change they deserve.