Clarice Cliff
Clarice Cliff is regarded as one of the most important pottery designers of the 20th Century and her Art Deco styling is much sought after.
Clarice was born in 1899 in Tunstall, Staffordshire as the 4th of 8 children of an iron moulder. She began working at the tender age of 13 as an apprentice enameller. At 17, she joined A.J. Wilkinson's Royal Staffordshire Pottery as a lithographer and it was here that her drawing ability was soon noticed.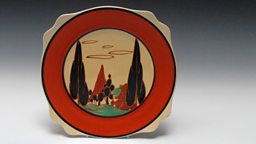 In 1927-28, a market testing of 60 dozen of her 'Bizarre ware' design was organised and proved overwhelmingly popular. Clarice was honoured with her own range from this success and the 'Handpainted Bizarre' range was launched shortly after.
The outbreak of war in 1939 ceased output at the factory, and as wartime restrictions continued into the 1950's, the factory was never to produce pottery in the style or quantity of the pre-war period. The factory was sold in 1964 to Midwinters after Clarice decided to retire and with no successor to Clarice Cliff, the production of original Clarice Cliff ended.
In 1971, Clarice was acknowledged as a major Art Deco designer by the Minneapolis Institute of Arts and a large number of her pieces were included in their influential World of Art Deco Exhibition. Clarice sadly passed away in 1972 at Chetwynd House, which had been her home since 1940.
Flog It! top tips
Look out for pre-war items with the Bizarre, Fantasque, Inspiration, Latona and Applique backstamps.
The most expensive items to be sold at Christie's was a 'May Avenue' Bizarre Bon Jour Early Morning set, comprising of a teapot and cover, a milk-jug and sugar basin, two cups, saucers and side plates, which sold in London in 1998 for £13,570.