The Bells of Saint John
The Fourth Dimension
The read through for The Bells of Saint John took place in the BBC's Roath Lock buildings on Wednesday, 19 September. It was held in the evening, after the conclusion of that day's shoot.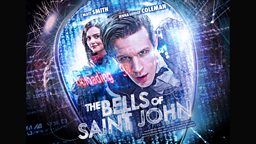 Filming for the adventure began on Monday, 8 October. It's the first episode of Doctor Who directed by Colm McCarthy whose previous credits include Hustle, Spooks and Endeavour.
"Earls Court was an embarrassment…" This line refers to an area of London which has a 'real-life' police box – looking very much like the Doctor's TARDIS – close to its tube station.
Clara's book, Summer Falls, is written by Amelia Williams – a reference to Amy Pond as Williams is the married name of the Doctor's former companion.
The episode features a fleeting appearance of Richard E Grant as the Great Intelligence. Last seen in The Snowmen, 2012's Christmas special, the Intelligence first appeared in The Abominable Snowmen and returned in The Web of Fear.
The scene where the Doctor drives a motorbike out of the TARDIS was shot on London's South Bank, only yards away from the British Film Institute where Asylum of the Daleks - series 7's opening adventure and the first episode to feature Jenna-Louise Coleman - premiered back in August, 2012.
The title and the ringing telephone bell draw our attention to the St. John Ambulance logo on the TARDIS exterior. The emblem was originally on 'real-life' police boxes to remind the public that police officers were trained in first aid by members of the St. John Ambulance Association.
The St. John Ambulance logo itself appeared on the TARDIS when we first encountered the time machine in 1963, before disappearing for several years. It reappeared briefly during the Third Doctor's era before making a true come back in The Eleventh Hour!
The gleaming building which houses Miss Kizlet's 'lair' is The Shard, formerly known as London Bridge Tower. Construction of this 1,016 foot tall skyscraper began in March, 2009 and it was opened to the public on 1 February, 2013. The Shard is the tallest building in the European Union, and the second-tallest in Europe, after the Mercury City Tower in Moscow. You can find out more about the building in the BBC's news section.
The prequel to The Bells of Saint John premiered on Saturday, 23 March – a week before the episode itself. It was written by Steven Moffat and featured the Doctor wearing his old tweed jacket… We see him discard this item of clothing in favour of his 'new' coat in an early scene on board the TARDIS.
The search for Clara brings the Doctor to London, 2013, where something deadly is waiting in the Wi-Fi.