Emergency Essentials
Our Emergency Essentials programme supports individual children and young people living with severe poverty, a lack of the basic facilities which most of us take for granted and additional pressures such as domestic violence, disability or poor health in the family.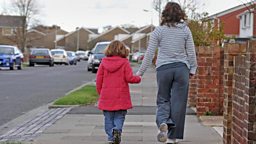 The programme provides items that meet children's most basic needs such as a bed to sleep in, a cooker to give them a hot meal, clothing (in a crisis) and other items and services that are critical to children's wellbeing. The programme is administered by Buttle UK which, through its network of frontline partner agencies, is able to reach families who need the programme most.
In response to increased demand for essential goods from families living with severe financial, health and social difficulties which affect children's wellbeing, BBC Children in Need will give £2.25 million worth of Emergency Essentials grants for the year to March 2017.
Visit Buttle UK's website for more information on how to apply.
If you are looking for a grant for any amount up to £10,000 for one year please see our Small Grants programme.
If you are looking for a grant for more than £10,000 please see our Main Grants programme.
If you have a general enquiry, are unsure about anything you have read or are looking for support regarding your application please contact our helpdesk on 0345 609 0015 or at pudsey@bbc.co.uk. Our helpdesk is open from 9am-5pm Monday to Friday. You can also contact your local regional or national office.