Winner of Great Pottery Throw Down revealed
8 December 2015
Across six action-packed episodes we discovered the art and science of turning lumps of clay into beautiful objects. With its rich heritage, intriguing technical language and magical transformations, The Great Pottery Throw Down brought the messy and marvellous world of pottery to life.
In the final episode Matthew, 23, a teacher from North Yorkshire, emerged triumphant as the winner of The Great Pottery Throw Down 2015. From ten potters who have thrown, turned, trimmed and fired: Rekha, Joanna, Nigel, Sandra, James, Jane, and the three other finalists Jim, Sally-Jo and Tom, Matthew won the coveted title in a very tough competition.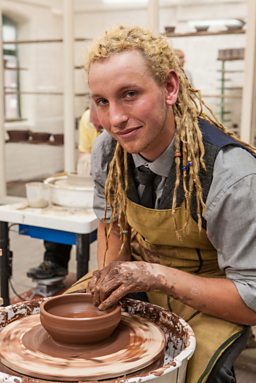 The judges - top potter Keith Brymer Jones and ceramic artist Kate Malone had to decide who had done enough to be crowned Britain's best budding potter and they saved the most complicated and demanding challenges for the final.
The finalists had to make an original twelve piece tea set out of porcelain; a true test of a potter's skills; the spot test from hell where they cut intricate and decorative designs into leather hard porcelain vases using a technique known as 'the devil's work'; and for the final throw down they had just twenty minutes to make three, high shouldered jugs - one of the hardest shapes to throw at the wheel.
Judge Keith said of the winner: "What Matthew did to win this contest is that he married design with technical ability and a real knowledge with a sense and a love of ceramics. Really and truly he has got a soul for it."
Kate added: "What a pleasure to present the trophy to Matthew, he has really been consistently there as Top Potter, and really applied himself well."
Matthew said: "Words can't describe it really, amazing, and I want to thank my mother and father for introducing me to clay. If I could break up the winning trophy into 10 shards to share with the other potters I would - but it would be a shame to ruin a good pot!
"I never expected to win, not at all, and it was fantastic to win, but what was as important to me were the relationships that were formed throughout the filming and working with people who had the same strong passion for pottery as I do. Working with potters that were unknown to me was really interesting because we are all from different backgrounds and ages, but we immediately got on very well because you have that connection.
"I am pleased that the show has been so popular and I know that enrolling at pottery classes has really risen since the show started. A lot of adults would have used clay at school at some time and it can be a therapeutic and creative hobby. So much can go wrong at any stage even for skilled potters!
"My parents were at the final, and they didn't know until then I had been Top Potter. I went home at half term and there were all these medals in my old bedroom at my mum and dad's house, so I know they are proud of me as they have kept them all. They are both potters themselves and know my skills and determination, and have been incredibly supportive. They are happy that I am following my career.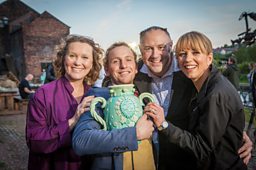 "I don't know if my look has brought pottery up to date, I would like to think so, having dreadlocks and wearing a smart suit is not the usual potter stereotype! I teach in my studio and it's something I have always done, as the dress code for working in a school is slightly different than working at home in your own studio. I also want to bring the attention towards pottery that it's something young people do, and there needs to be an industry for it.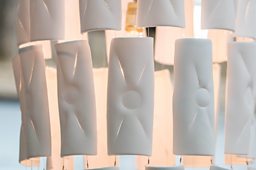 Matthew's chandelier
If I could break up the winning trophy into ten shards to share with the other potters I would

Matthew
"I don't have any favourite pots in my pottery, because I am a teacher, and trained not to do that. I think I am quite boring with my pots, they tend to be functional, so I suppose that is good as they are getting used all the time!
"I can't give any more presents as pots for Christmas so I will have to start wood turning or something different. Ceramics is very important to me as it is in my blood, I won't ever be changing my career, as I am combining my love of teaching with pottery. Being an art teacher you are surrounded by lots of creative people doing different things, it's great to work with children whose minds are quite open, they are very creative. The pupils at my school have been avidly following the show, as have the teachers and each week I was getting very good feedback from them.
"I found being judged by Kate and Keith was a lovely experience. They are fantastic people who have built up a career and an industry for themselves, so it was interesting to hear their views on different things. Sara was great at calling out the timings and her whole mood was very relaxed and that really helped us. It was good to have another Northerner on the show, it made me feel slightly more at home.
"I will be staying in touch with all the potters, we are all on What's App and text each other all the time. We have gone through this huge experience together and still all remained friends!"
The Great Pottery Throwdown
Filmed at Stoke-on-Trent, the undisputed home of pottery, 10 clay enthusiasts compete to be Britain's top potter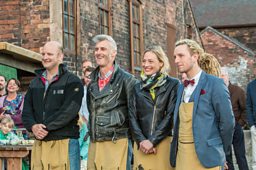 The finalists - (l-r) Tom, Jim, Sally-Jo and Matthew
More pottery on Get Creative