5 songs you should hear this week – w/e 6th July
Every day we play you a track that has just grabbed our attention. As soon as we hear it, we send it into the digital ether for you all to enjoy. Sometimes it's an exclusive, sometimes it's a favourite artist and, at other times, it'll be someone brand new.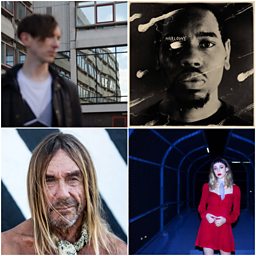 Marlowe – The Basement
This is the third track to be shared from Marlowe's self-titled debut album, which is due out next Friday, and the first to feature a music video. It stars MC Solemn Brigham, who has joined forces with his friend for the project, the sample-loving beat-maker and producer L'Orange. The album will be released on Mello Music Group and has been described as "a rap bricolage blending prohibition and civil rights-era samples with Asian psychedelic rock flourishes."
Jackie Cohen – Bold
This track comes from the upcoming EP Tacoma Night Terror Part 1 I've Got The Blues, which has an excellent musical pedigree. LA artist Jackie Cohen recorded it at Matthew E. White's studio in Richmond, Virginia; with the help of Jonathan Rado (of Foxygen, who Lauren absolutely loves) and Brian D'Addario and Michael D'Addario on backing vocals AKA The Lemon Twigs. It's a three wishes, all in one, kind of a tune. And we look forward to hearing more from her.
TVAM – These Are Not Your Memories
TVAM is the moniker for the Wigan-based producer Joe Oxley, who cites Boards of Canada, Suicide and My Bloody Valentine as musical touchpoints. His self-produced and home-recorded debut album, Psychic Data, will be released on 19th October. The album was mixed by Dean Honer, he of Moonlandingz and International Teachers of Pop, and you can hear his influence on this track. It's an epic rave, shoegaze moment, a beaut!
Self-Esteem – Wrestling
Self Esteem is the new project for Rebecca Taylor who spent 10 years in the Slow Club. Her first release under her new guise was Your Wife, produced by Django Django's Dave MacLean which came out at the tail end of last year and she also featured on their track Surface To Air at the start of this year. Wrestling is produced by John Hugo and recorded in her adopted home of Margate. It's a slice of electro pop with a dark edge.
Underworld & Iggy Pop – Get Your Shirt
The catalyst for Underworld and Iggy getting together to record music was film director Danny Boyle. Underworld's Rick Smith had been asked by Boyle to oversee the music for T2 Trainspotting and so asked Iggy to provide vocals. Despite the music not making it to the finished film, they are releasing a four track EP Teatime Dub Encounters on 27th July. The first track, Belles and Circles, was premiered at the Biggest Weekend in Belfast. This is the third track to come from the EP and sees Iggy free-styling over the brilliant beats.
Discover more new music with 6 Music Recommends