The Six Nations Scratch Fifteen
Eleri Sion assembled a scratch fifteen of BBC Radio Wales presenters to predict the scores of the games in the 2014 Six Nations campaign. So who's come out on top?
The final weekend of the 2014 Six Nations was always going to be tense, that went down to the wire – and the same can be said about our Six Nations Predictions game.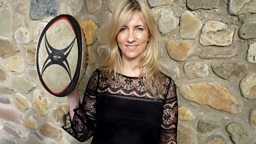 Jason Mohammad was out in front by 8 points before the closing clashes, but an accurate performance by any number of other presenters meant that he could easily have been caught.
Highest points of the weekend were earned by Oliver Hides who put an impressive 20 points on the board, having put together an extremely accurate set of predictions - that included guessing Scotland's 3 points correctly.
Chris Needs on the other hand failed to score in the final week – a victim of predicting wins for Italy, Scotland and France.
Elsewhere there were solid performances from Steffan Garrero, Wynne Evans and most notably Nelli Bird, whose late flourish earned her 15 points.
The table below shows how our 15 presenters finished.
Congratulations to Jason Mohammad for topping the table!
| Ranking | The League Table | Points |
| --- | --- | --- |
| 1 | Jason Mohammad | 78 |
| 2 | Frank Hennessy | 67 |
| 3 | Wynne Evans | 66 |
| 4 | Steffan Garrero  | 62 |
| 5 | Ollie Hides | 61 |
| 6 | Nelli Bird | 59 |
| 7 | Rob Phillips / Roy Noble | 56 |
| 8 | Beverley Humphreys | 54 |
| 9 | Alan Thompson | 53 |
| 10 | Dewi Griffiths | 52 |
| 11 | Mal Pope | 50 |
| 12 | Bethan Elfyn | 49 |
| 13 | Owen Money | 40 |
| 14 | Chris Needs | 33 |
The Six Nations on the BBC