The Shacks
Picture Credit: Katie Lee, Standby Art Director
The Holly family live at The Shacks in an old railway carriage.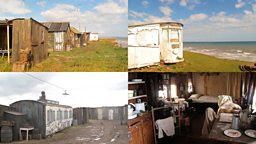 The Shacks were built alongside this original 1911 tram on the cliffs at Skipsea, East Yorkshire. Shortly after South Riding was filmed, there was a violent storm and a crane had to be used to urgently move the tram away from the cliff edge before it fell away. This tram belonged to the current owner's grandmother in the thirties and at that time, there was an entire farm and then a road before you reached the sea.
The Shacks were filmed in three separate locations;
The scenes by the sea were shot on the cliffs at Skipsea, East Yorkshire.
The Shacks set was then recreated on Acaster Malbis Airfield, North Yorkshire which was closer to our filming base. This is where the Holly family's railway carriage was built.
The interior of the railway carriage was a scale recreation of the carriage built in a studio space in Leeds.