Q&A with Bob Barrett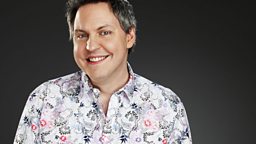 When you first joined the series, what were your initial thoughts about Sacha and Chrissie?
The first thing Sacha discovered was that Chrissie was six months pregnant, so that threw a spanner in the works! Sacha being Sacha wanted to do what was right by the baby. This was obviously helped by the fact that he clearly had incredibly strong feelings for Chrissie, which I think it is fair to say, on the other hand, she didn't reciprocate.
The episode where Chrissie gives birth is a real turning point for Chrissie and Sacha's relationship – what were your memories of shooting those scenes?
I'd only just joined the show and had no idea where the relationship was heading. It was bloody freezing because it was during the first real cold snap with snow on the ground and no heating in AAU so we were hugging each other for warmth. We were lucky to have David Innes-Edwards as our director and my main memory of it all was that it was the episode that had a genuinely warm glow about it despite the weather.
Why do you think it took Sacha and Chrissie so long to get together?
Chrissie still had some wild oats to sow before it was time to settle down. I think they got close almost a year before they actually got together but a combination of Mark (Robert Powell's character) and the arrival of Dan (Adam Astill's character) put a kibosh on that. Sacha could never find the right time to make his move despite attempts with babysitter vouchers and as much good will as is humanly possible.
The Christmas episode was another big milestone for Chrissie and Sacha. What are your thoughts on that episode and were you scared to get on the back of that motorcycle?
One of the most special times I've had on the show. Rob Evans directed it and it was magical. I thought for comic effect I should make it look like it was really difficult to get off the motorcycle. We only did one take and half way through that take I realised that I might suffer a hernia because it was not only difficult but nearly impossible. I remember thinking, "c'mon butch up" so when I ran into the airport I looked like a cowboy who'd just been shot in the leg!
This is also the first episode where we see Sacha's musical talents...
Initially I was going to sing over the tannoy at the airport, but when they realised I could play the piano as well (I played piano at a leaving do for a colleague) they moved the moment to Albie's instead!
What do you think have been the highlights for Sacha and Chrissie since getting together?
There have been lots! I love and miss Sacha's den. Proposing for tax reasons is another favourite, which still splits people into two camps: one half thinking it's a very good idea and the other I thinking it's the most unromantic thing they've ever heard. The stabbing was a highlight for different reasons – it was interesting to see a different side of Chrissie and Sacha during the fall out.
Tell us about shooting the wedding?
We were delighted that it was an episode written by Justin Young. I read the episode with baited breath as I'd heard a rumour it was going to based on Don't Tell the Bride with Sacha organising everything. Thank goodness that didn't happen! It would have been a disaster – ruffled 70s shirts and too many E numbers. Instead we got a beautiful story, told over the week leading up to the day itself where you just don't know what's going to happen next until the end. It was great that my whole family were involved and almost the whole cast. It's the first time we've ever had that many regulars on set at one time so I'm amazed we got any work done at all! It was my first scene with Tara (played by Jing Lusi) which was lovely.
The stag night will stay with me for a very long time and was my favourite scene among many which I loved. We were all crammed round the table in Luc's camper van, because I was involved it was rather cosy. I was only on Kaliber but I felt drunk by lunchtime!
What do you hope is in the future for Chrissie and Sacha?
I think their relationship is very real and modern in that they've both been married before and he has children with a previous wife so it's complicated. But I am sure they will fight to keep the marriage on track, in Holby land obviously you never know what might be round the corner!
What do think Chrissie loves most about Sacha?
His svelte, debonair, swarthy good looks.
 What do you think Sacha loves most about Chrissie?
She's the perfect woman with the perfect child.
Holby City Q&As
Read (or watch) all our interviews with the Holby cast and crew here...
We caught up with Marc Elliott to find out what's in store for Holby's latest arrival, Issac.

Rob Ostlere and the Holby production team look back at the much-loved character's exit.

Jemma Redgrave, Oliver Kent and Simon Harper on introducing Holby City's newest recruit.