Poole Pottery collection
The owner of this collection of 1950s Poole Pottery explains to Hilary Kay that he has 300 more pieces at home.
He started collecting after sustaining brain damage in an accident and found it therapeutic. He is now recovered and collects for the love of it.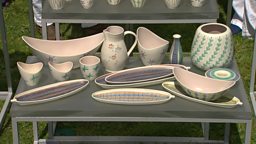 Hilary explains that the collection comprises of the Freeform range by Poole Pottery and that the biggest pieces are worth up to £200-£350 each.
Did you know? That the Freeform range, identifiable by its organic, curvy shapes, was designed by Guy Sydenham and Alfred Read in 1953/4.
Did you know? That Poole Pottery was, as the name implies, founded in Poole, Dorset, in 1873.
Get the app that lets you join in by guessing the values of items featured in the show.