Suspect: Max Branning
Alibi, possible motive and reasons leading to the suspicion of Max Branning in the death of Lucy Beale.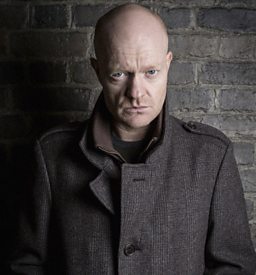 Connection to Lucy: Ex-lover
I ain't a murderer...

Max Branning
Alibi: Was at home with Abi
Possible motive: Was having a secret affair with Lucy, but was dumped on Good Friday
Max's secret affair with Lucy had its confrontational moments - and Lucy's blood was found at his work. Despite this he claims he was at home with Abi all night, apart from when he took Tramp out for a walk for five minutes. He too has destroyed evidence, including; cleaning Lucy's blood from his office and burning a laptop with CCTV footage of him harming Lucy.
Killer instinct...
"I have no idea. I've had a few theories over the time. At one point I thought it was Abi and then I thought it was Ian and now I have no idea. It could be Max – there are definitely certain points over the last six months where it seems like the finger of suspicion was pointed towards him. If it was Max, I'd be shocked and excited for what the future holds. Obviously there's going to be huge repercussions for whatever character did it - who ever committed the crime - so we'll wait and see!"

Jake Wood
More on Lucy Beale
Take a look at some of the earlier evidence and suspects surrounding the murder of Lucy Beale.