How to Watch and Listen
From Monday 6 to Friday 10 October 2014, BBC Radio 6 Music presents live sessions from the BBC's historic Maida Vale Studios.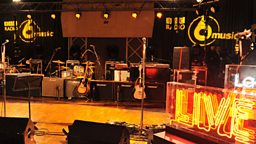 Watch or listen to each session, plus all the build-up on Lauren's show, live here on the BBC 6 Music website, 10am-1pm every day. Just head to bbc.co.uk/6music each morning and follow the links to watch or listen live.
Come back to the website later in the afternoon to watch a couple of tracks from each session - more highlights will go up online in the evening.
See highlights each evening on the Red Button from 7pm, and at various times the following week. Full schedule information below:
| Artist | Time | Repeat Time |
| --- | --- | --- |
| Johnny Marr | 7pm (Mon 6 Oct) to midday (Tue 7 Oct) | 10pm (Mon 13 Oct) to 7:25pm (Tue 14 Oct) |
| First Aid Kit | 7pm (Tue 7 Oct) to midday (Wed 8 Oct) | midnight to 4pm (Tue 14 Oct) |
| Underworld | 7pm (Wed 8 Oct) to 11am (Thu 9 Oct) | 7pm to 10:25pm (Wed 15 Oct), 6am to 2pm, 3 to 7:55pm (Thu 16 Oct) |
| La Roux | 7pm (Thu 9 Oct) to 11am | midnight to 2pm (Fri 17 Oct) |
| James | 7pm (Fri 10 Oct) to 3am, 9:40 to 11:55am, 6 to 9:15pm (Sat 11 Oct) | 6pm to midnight (Fri 17 Oct); 6 to 9:05 pm (Sat 18 Oct, TBC) |