Wynne Evans presents the Radio Wales 'Big 40' Bucket List
On November 13 2018 BBC Radio Wales will celebrate its 40th birthday.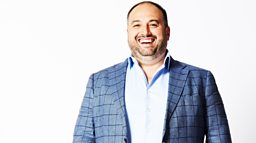 To mark that momentous occasion, I asked my listeners for suggestions for my BBC Radio Wales 'Bucket List 40' - a list of forty things you always meant to do, but never quite got around to.

Well - the list is compiled - the Bucketeers are ready - here's the final forty! Stay tuned to the show to hear how each one pans out.
The forty are, in no particular order:
1. Christley Thorngate from Tonyrefail
Go in a Hot Air Balloon

2. Geoff Owen from Llangoed, Anglesey
Sing with Wynne and a choir at the top of Mount Snowdon

3. Neil Howells from Skewen
Learn how to swim

4. Ann Hughes from Nefyn
Meet Tom Jones


5. Adrian Snelgrove from Hereford
Go on a Zip Wire

6. Patricia Atkins Abergavenny
To finally learn how to make a Victoria Sponge Cake

7. Teresa Davidson from Aberavon
Co-host a radio show with Wynne Evans

8. Rose Nichols from Talywain
A guided tour in West Wales with Iolo Williams as the guide

9. Anthony Daniel from Aberystwyth
Have a go at driving a steam train

10. Keith Jackson from Weston-Super-Mare
Get a Tattoo with Wynne

11. Julie Hale from Torquay, Devon
Sing the Welsh National Anthem with Wynne at the Principality Stadium

12. Viv Williams from Caerphilly
Be a part of a Radio Wales Christmas Panto. Ideally, 'Ali Baba and the 40 Thieves'

13. Jennifer Raynes from Merthyr Tydfil
Go down the ramp at the Tenby Lifeboat station and splash down into the sea

14. David Owen from Aberarth
To have Wynne bring the show to Aberarth for the day

15. Geoff Howard from Tonypandy
Try Scuba Diving

16. Wayne Driscoll from Cardiff Bay
Fly and land on a proper jumbo jet simulator

17. Stephen Clee from Tonyrefail
Learn how to ride a horse

18. Dean Smith from Porthcawl
Spend the night at a haunted house

19. Adriana Roderick from Mountain Ash
Have a go at lambing

20. Tracey Alexander from Penarth
Dance with a celebrity

21. Glenys Griffiths from Blaenau Ffestiniog
Visit Cardiff for the first time with Wynne as the tour guide

22. Lynne Thomas from Brackla
Ride on a Segway

23. John Devon from Abergavenny
Drive a supercar

24. Paul Rees from Pontardawe
Perform with a band at a live performance - playing Led Zeppelin

25. Claudette Evans from Bridgend
Go on a motorcycle tour of the Brecon Beacons just like Roy Noble did on his Trike

26. Pat Arnold from Bridgend
Have a meteorology lesson with Derek Brockway

27. Maureen Probert from Brecon
Perform with her group the Uskeleles on the Wynne Evans show

28. Al from Aberdare
To design a limited edition Radio Wales mug

29. Gerald Evans from Buckinghamshire
Have a tour of Carmarthen with Wynne Evans

30. Andrew Sleeman from Llanelli
Be in the passenger seat in a Rally Car being driven by Elfyn Evans

31. Eileen Jones from Rhondda
Take the children from 'Valley Kids' for a ride on an airplane

32. Sian Sheppard from Caerphilly
Learn how to sail

33. Charlotte Beynon from Swansea
Be an extra on a TV show

34. Jon Jenkins from Newport
To have a go at working in a Michelin Star kitchen

35. Mary Shipton from Monmouth
Visit and spend the night at Flat Holm Island
36. Sara Crowley from Mountain Ash
Watch a concert from the lighting rig

37. Chris Church from Bridgend
Drive a car through a pane of glass

38. Dylan Roberts from Pwllheli
Take a penalty kick at Cardiff City Stadium head of a Wales football game

39. Mari Sexton
Fly in an Air Sea Rescue Craft

40. Paula Williams from Nantymoel
Fly in a Helicopter
Note:
If we're unable to achieve one of these activities, for whatever reason, the BBC reserves the right to suggest an alternative.
In the unlikely event that the alternative suggestion isn't suitable or the participant doesn't want to partake in it, the BBC would approach another listener from the original list of suggestions received and explore the logistics of carrying out their activity instead.
Original Terms and conditions
'Bucket List 40' consists of 40 activities for listeners and Wynne to do together before Radio Wales turns 40 on 13 November 2018.
The best 40 suggestions from those submitted were chosen according to editorial merit and health and safety implications.
If more than one person suggests the same activity, all those names will go in a hat and one will be drawn out.
If, for health and safety reasons, the activity turns out to be unsuitable / weather dependent, we reserve the right to cancel it, or suggest an alternative.
If a person has to drop out of the recording, or is not available when Wynne is available, we reserve the right to cancel the recording, or offer the opportunity to another listener.
Participants agree to be recorded, filmed, and images used for editorial and publicity purposes by the BBC on all platforms.
Each activity will be covered by a full risk assessment and professional supervision where necessary.