Stargazing Events 2015
BBC Event (NOW OVER)
This year BBC Learning held a one-off spectacular event Friday 20 March at Leicester Racecourse which coincided with the solar eclipse.
The family friendly event was split into zones including Eclipse Central - eclipse related activities; Launch Pad - hands on 'train to be an astronaut' activities; Mission Control - images from across the solar system and the Astro Academy.
Partner Events
If you want to attend a Stargazing event this year, here are some of the activities happening around the UK to celebrate the night sky. Why not join fellow stargazers at a star party near you?
If you are attending a Stargazing event this year, share your photos and stories online with #StargazingEvents
Disclaimer: Activities are not organised by the BBC unless stated otherwise. Neither is the BBC responsible for the accuracy of the information provided. If you are under 18, ask your parent/guardian before taking part in any activity.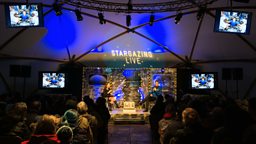 BBC Learning's 2015 Stargazing event in Leicester
Social Stargazing
Follow us on Twitter for the latest events and programme news, plus behind-the-scenes photos.