Stargazing Events 2015
BBC Event
This year BBC Learning is holding a one-off spectacular event on Friday 20 March at Leicester racecourse to coincide with the solar eclipse. The event will be open from 9am to 3pm and from 6pm to 9.30pm and will encourage astronomers old and new to look towards the sky.
This family friendly event is split into zones including Eclipse Central - eclipse related activities; Launch Pad - hands on 'train to be an astronaut' activities; Mission Control - images from across the solar system and the Astro Academy - where you can grill people who are passionate about the mysteries of the universe.
All this as well as hands-on science, coding and stargazing. Admission is free, but the Astro Academy has a limited capacity and so is available on a first come first served basis. Children under the age of 18 must be accompanied by an adult.
Partner Events
If you want to attend a Stargazing event this year, here are some of the activities happening around the UK to celebrate the night sky. Why not join fellow stargazers at a star party near you?
Disclaimer: Activities are not organised by the BBC unless stated otherwise. Neither is the BBC responsible for the accuracy of the information provided. If you are under 18, ask your parent/guardian before taking part in any activity.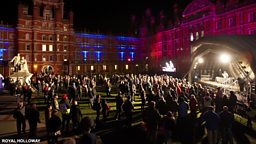 BBC Learning's 2014 Stargazing event in Egham
Social Stargazing
Follow us on Twitter for the latest events and programme news, plus behind-the-scenes photos.