Events 2014
Last January, thousands of people visited hundreds of Stargazing events to view the stars and find out more about the wonders of space, galaxies and space exploration.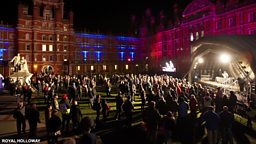 Audiences at the three large BBC Learning events in Portsmouth, Norwich and Egham saw amazing science demos, alongside comedy and music in the stage show, as well as getting the chance to train like an astronaut, be part of the DIY Solar System, see images from the world's best telescopes and hear directly from astronauts at NASA.
Local experts and astronomers were on hand to answer questions and give further inspiration. In Belfast, audiences at the BBC Stargazing event took part in astrophotography masterclasses and guided starwalks as well as getting the chance to see Northern Ireland's first Planeterrella (scientific apparatus that simulates the Aurora Borealis).
(Image: BBC Learning's Stargazing LIVE event at Royal Holloway, University of London in Egham, 9 January 2014. Copyright Royal Holloway)
Follow us on Twitter for the latest events and programme news, plus behind-the-scenes photos.

Stargazing LIVE event host, Helen Arney, sings a song about the realities of stargazing in January.

This downloadable pack offers inspiration for activities for event organisers (PDF 3.2MB, Adobe Reader required).

Fun and interesting ways to host your very own star party (PDF 6.4MB, Adobe Reader required).