Low GCSE or National Results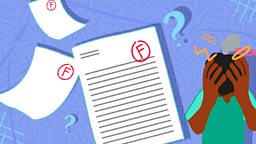 If you didn't get the GCSE or National results you were hoping for, don't panic. You've still got lots of options...
Have an honest chat with your teachers before resitting
What do I do now?
There's no need to panic, you have lots of choices. Don't rush into a decision - think carefully and talk to your parents and teachers about your options.
Can I resit?
England and Wales
You can resit English and Maths GCSEs in November, but you can't do the rest until the summer.
Scotland
You can't resit any National exams. You can however be presented again for the same course by your school or college in the following academic year. In certain circumstances, you may be eligible for an appeal.
If you only need to resit a few exams, you might be able to do it alongside AS levels, Highers or BTECS.
Have an honest chat with your teachers before resitting. Many people do much better when they resit, but if your teacher doesn't think you can improve it might not be worth it. It can also be lonely if all your mates are going on to do other things.
Can I still do AS levels?
It depends how low your grades are. Talk to the college that offered you a place and ask if they'll accept you with lower grades.
If they say no, contact other colleges to see if you can study there instead. Alternatively, consider taking a vocational course, as they have lower entry requirements.
What about Scottish Highers?
You can't usually take a subject at Higher if you do not have a National 5 qualification in the same subject. Some schools will let pupils 'crash' a subject in S6, if they are confident that they can manage the workload and pass the course.
If you passed your National 4 course, you could talk to your school about progressing to National 5. (Few people would move through National 4 then National 5 then Higher).
Alternatively, consider taking a vocational course – speak to a Careers Adviser to see what opportunities are available to you.
What vocational courses can I do?
BTECs, SVQs and Cambridge Nationals are a mix of theory and practical work based around a career you're interested in. They often have an element of work experience too. There are hundreds to choose from and some are accepted by universities.
Can I get a job?
Yes, but find out if your results will get you the sort of job you want. If not, can you work your way up? If you have the right attitude and personality many employers will offer you training. An alternative is an apprenticeship, which will let you learn while you earn.
Read more in our Post GCSE Options factfile.
BBC Advice factfiles are here to help young people with a broad range of issues. They're based on advice from medical professionals, government bodies, charities and other relevant groups. Follow the links for more advice from these organisations.
This factfile was updated 31 July 2017.