Want to know more?
Get more links and info relating to the issues faced by the young people in the show.
Cosmetic Surgery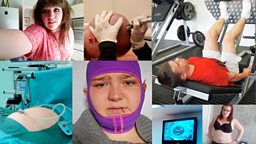 BBC Health offers an introduction to cosmetic surgery on the NHS, NHS Choices offers a guide, including considerations, recommendations, how to choose a surgeon, and alternative non-surgical cosmetic procedures. Is it right for you?
Weight loss
From BBC Health, how to improve your physical and mental health with a diet and fitness plan and a healthy weight-loss diet. From NHS Live Well, there's further advice on losing weight, food and diet, plus weight loss surgery.
Treatment abroad
The NHS also offers advice on going abroad for medical treatment and cosmetic surgery.
Acne
Information is available from Radio 1 Advice, BBC Health and the NHS; including treatment and how to deal with it.
Excessive sweating: Hyperhidrosis
Find out more from BBC Health and the NHS, including a guide to living with it.
Hair Loss
A guide to the condition in men and women from BBC Health. Find out more from the NHS, including treatment and emotional support.
Scars
Here's a guide from NHS choices, plus advice on dealing with facial disfigurement.
The young people describe how their body image affects them on a daily basis.

The contributors discuss whether changing your body is now part of everyday life.

Discover more about all of the BBC Three documentaries which explore body image.