Photo Group (Flickr)
Professor Brian Cox has asked astronomers of all levels to share their best 'astro photos' in the BBC Sky at Night and Stargazing LIVE photo group.
The group is about enjoying astronomy images and helping members improve their astrophotography skills. Please share your knowledge as well as your photographs. Tag images with your subject and location, and make sure we can see your real name.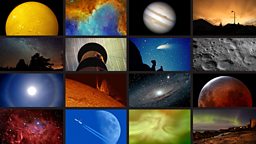 Other photographers always find it interesting to see how you took your shots, so why not include details in your photo description?
Please only submit your own original images. Any images submitted to this group many appear in BBC Science productions and by joining you give your permission for this. Ensure you read the Rules below before joining.
Rules

We welcome your images of any astronomical objects, and the equipment used to view and photograph them. Scans of astronomical drawings are welcome for The Sky at Night.
Housekeeping
Uploads are limited to ten images per day. No pictures of people, thanks. Admins will remove inappropriate material for the benefit of the group.
Copyright
Please only submit your own original images. Any images submitted to this group may appear in BBC science productions, and by joining you give your permission for this.
By submitting your image(s) to this Flickr group you agree that the BBC can use the image(s) free of charge in BBC astronomy and science programmes for transmission anywhere in the world at any time now or in the future.
Your image(s) may also be used to publicise these programmes on BBC television, in the print media and/or on the BBC website.
You still retain all copyright and ownership rights in your photograph or image, and your name will be put on your image on broadcast wherever possible. If you require further clarification, please contact the group administrators.
If we wish to use your image in a programme other than The Sky at Night, Stargazing LIVE, or a Wonders... series, we'll use flickrmail to contact you and confirm your permission. If you don't check it regularly, you might want to link flickrmail to your email account. 
(Photo credits: 1st row - Nick Howes, Dave Moulton, John Talbot, John C McConnel; 2nd row - Ryan Stevenson, Mark Riddick, Mark Riddick, Nick Howes; 3rd row - Dante P, Guiseppe Petralia, Nick Howes, Tom Harradine; 4th row - Richie Jarvis, Mike O'Hara, Chris Brown, Stewart Watt)
Join thousands of fellow stargazers at BBC-led events and other astronomy parties around the UK.

Interactive guide to taking photos using cameras, telescopes and webcams.

You're unlikely to snap an exoplanet, so instead download an artist's impression of one orbiting a distant star.