Young Choristers Of The Year 2013
BBC Radio 2 is looking for its Young Choristers of the Year 2013. We want to affirm and encourage the contribution young people make to choirs and music groups in the United Kingdom.
This year's winners, a boy and a girl, will receive a trophy and lessons with an established singing coach.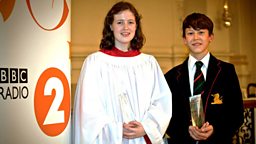 There will normally be opportunities for the winners to appear both on national radio and television during the year.
As well as musical excellence the judges will be looking for someone who will rise to the challenge of performing on radio and television.
The final will be recorded at St Martin-in-the-Fields, Trafalgar Square in London on Monday 28th October 2013
How To Enter

** Download the Application Form **

Need help downloading? Get help and tips from BBC Webwise

TO QUALIFY YOU MUST:
* Be 11 years or over and under 17 years of age on 31st July 2013.
* Be a treble, soprano or alto singing regularly in a choir or music group at services of worship of any denomination.
* Submit a recording (CD – all labelled clearly with the entrant's name) of your competition entry to

BBC Radio 2 Young Choristers of the Year
First Floor
Dock House
MediaCityUK
Salford, M50-2LH

* On the recording you should sing one hymn and one other religious piece of your choice. At least one item should be accompanied. (Unfortunately this recording cannot be returned to you).

* Fill in the application form and read the rules carefully.

** Read the full Terms and Conditions for this competition **
* When you have completed this form (pages 3-5), please post it along with your recording to: 
BBC Radio 2 Young Choristers of the Year
First Floor
Dock House
MediaCityUK
Salford, M50-2LH

*THE CLOSING DATE FOR ENTRIES IS Wednesday, 31st July 2013
Clare Balding hosts Radio 2's weekly faith show with topical conversation and inspiring music.

The world's longest-running orchestral live music programme on radio, featuring the BBC Concert Orchestra.