Rampart Cave expedition
By Mags Lightbody, assistant producer and director Ice Age Giants
Episode 1 Land of the sabre tooth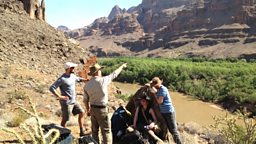 Rampart Cave is 300m high in the walls of the beautiful and iconic Grand Canyon. Discovered in 1936 and full of animal dung it is an important research site. The cave shows how crucial scientific information can come from unlikely places. And it just had to be one of our filming locations!
We knew that access to such a remote location with only 6 crew would be hard to get to and expensive. Especially with a 3 hour climb in the hot sun with 300kg (661 pounds) of kit! Our contributor Jim Mead and the National Parks Service were initially very pessimistic.
To get a full filming day we started early with a boat ride from Lake Mead up the Colorado River. The river was low and the steep banks covered in thick tamarisk thicket. Stunning morning sun lit up the walls of the eerily silent canyon.
Once we found a suitable place to disembark we loaded up kit and as much water as we could carry and headed off. Within metres we were hacking through the tamarisk. Just getting 20m took nearly an hour! As we got higher, the terrain became rockier and the burning sun appeared out of the shadows.
We twisted around various species of cactus all trying to alter our path. It was 3 hours of slow plodding, resting in the precious shade of boulders. But we finally reached the foot of the cave, with 'only' a final 5 metre rope climb remaining!
But the cave did not disappoint! We were immediately blasted by the smell of 40,000 year old sloth dung, piled up to 6m deep! It was a unique experience – to be walking in the footsteps of thousands of Shasta ground sloths, taking shelter in the cave all those years ago. We had a great day filming – long, dusty and smelly, but definitely worthwhile.
More from the field in Ice Age Giants
Although related to modern tree sloths, giant ground sloths resembled no other animal.