Six Nations Stations
Our spectacular Six Nations Stations competition is now closed - thanks to everyone who entered!
The competition
The clues and the stations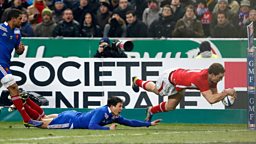 The competition involved identifying four railway stations in Wales - you can listen to the clues in our "clips" section (the link is at the top of this page), or click here.
The four correct stations were Llanelli, Llanberis, Llanfair PG and Flint
The prize consisted of a pair of tickets to Wales v England, hotel accommodation in Cardiff on the night of Saturday 16th March and travel expenses.