Support Team Rickshaw
On each of the evenings below, Matt Baker will be greeting Team Rickshaw live on The One Show as they cross the day's finish line.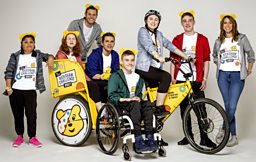 If you would like to come and support the team at these locations along the route, then please do, and arrive from 6pm onwards.
Friday 10 November –Banbury Market Place (in front of Castle Quay Shopping Centre)
Monday 13 November – Morecambe, by the Eric Morecambe statue
Tuesday 14 November – Penrith, Penrith Clock Tower in the Market Square
Wednesday 15 November – Hawick, Heart of Hawick, TD9 0AE
Thursday 16 November – Edinburgh Castle (in front of the main entrance, on Castle Hill)
The Rickshaw will be making lots of other stops too, so check our map to see if it's coming to a place near you – the team would love your support.
Find out more about Rickshaw Challenge 2017, including how to donate, here at BBC Children in Need.