How It Works
Britain is a democracy where we can say what we want. So let's say it. Free Speech is a live debate show, hosted each month from a different location around the UK. We take a panel of MP's, celebrities and key decision makers, stir in your opinions and questions, then sit back and watch the results unfold... with a few clever tricks along the way.
The Power Bar
To power up the panellists simply add their yes hashtag to one of your tweets - and to power them down simply add their no hashtag. For 'Free Speech: Live From Parliament'…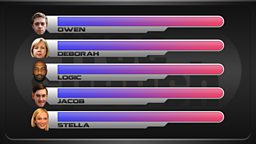 Owen Jones: #YesOwen or #NoOwen
Deborah Meaden: #YesDeborah or #NoDeborah
Logic: #YesLogic #NoLogic
Jacob Rees-Mogg MP: #YesJacob #NoJacob
Stella Creasy: #YesStella #NoStella
The Hot Five
Live shows aside, the Free Speech team live online ALL. OF. THE. TIME. Scanning the news and views, we find out what you're all talking about and why.
Our mission is to find The Hot Five each month – five topics that have got you talking more than any other. These five topics are constantly changing depending on what you say. As each live show nears we'll lock down The Hot Five for that month and use them to drive the discussion in the studio.
Free Speech is massively powered by your input. Jump on to Facebook and Twitter now and get involved.
Be In The Audience
Applications to be in the audience are currently closed. Please keep checking back for more dates.
If you're 18 to 30 and like to stir up a bit of debate, then apply to come to one of our live shows. You'll be invited to give us a question, and in the hour before we go live we'll choose the most popular and punchy ones to put to the panel.