Thank Your Lucky Stars
Brian Matthew chats to Bob Stanley about his move into TV presenting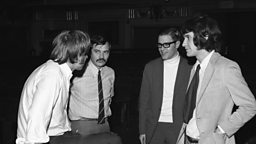 The Kinks at the BBC
Last week, Brian told us about his days on the BBC's Saturday Club, and the problem of 'needle time' which meant many groups had to play their songs live on air, or record special BBC sessions. Of course, looking back this has all been for the good of the listeners, and terrific sets like The Kinks At the BBC wouldn't have been possible if the Musicians Union hadn't been such jobsworths in the sixties. Nevertheless, at the time it was frustrating for groups and DJs alike to be restricted over the number of records they could play.
Brian simultaneously hosted Saturday Club and Easybeat (on Sunday morning) for the BBC, as well as eight shows a week on Radio Luxemburg where he could play nothing but vinyl. "By that time I'd also started doing Thank Your Lucky Stars, so I was kind of busy!"
"At that peak period, in the early sixties, I had an agent - which I don't recommend - and he said 'I think you should do pantomime as well'. So on top of all that lot he got me a role in the pantomime at Bromley. I liked it. It was Dick Whittington, and I was Simple Simon. It wasn't a big top level panto, mostly just rep people, but I remember one of the other actors was Simon Oates - he was in the running for the role of James Bond when they started making the films. He was one of the last four. Nearly, but not quite."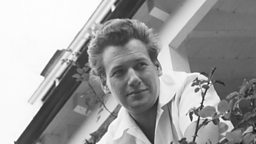 Keith Fordyce
Thank Your Lucky Stars was an ITV pop show, produced by ABC, and recorded in a studio in Aston, Birmingham. Initially it was hosted by Keith Fordyce - long-time SOTS listeners will remember Keith as a presenter in the eighties. "The producer of Thank Your Lucky Stars, who I knew from Radio Luxemburg, wanted to introduce a new feature which was a panel of kids doing something that was very much a Jukebox Jury set-up. You played three records, and we got these Birmingham kids on the panel to review them, including Janice Nichols and her wonderful Brummie accent - and she became world famous for her catchphrase "I'll give it five"! She was on it every week, and there was Billy Butler from Liverpool, and he'd got a wonderful accent too. He was pretty good and became a DJ for the BBC in Liverpool.
"So I just went in doing this panel until - it was a bit of a strange situation - they wanted us to go on strike. Keith Fordyce was a member of Equity and went on strike. And so they asked me if I would take on the whole show. I'd been a member of Equity, but didn't consider I was anymore. Equity hauled me in, cast all sorts of aspersions, and said 'you don't leave Equity unless you die'. I thought, what a stupid thing to say. The head of Equity was Dickie Attenborough, and he said he was ashamed that they'd treated me that way, and contacted me to apologise on behalf of the union. Which I thought was nice of him.
I started screaming at the audience - 'Can't you behave yourselves?' These people are here to perform....

Brian Matthew
"Anyway, I was quite glad, and went on doing Thank Your Lucky Stars for five years! Then even I got fed up with it because of the screaming... not only at the Beatles and the Stones, it became a habit, screaming at anyone who came on, and at Billy Fury in particular I remember. I started screaming at the audience - 'Can't you behave yourselves?' These people are here to perform.' But of course the management liked it, they liked all that screaming. So they asked me to leave - that was the end of my TV career. Oh well, never mind!"