What We Do
BBC Children in Need is the BBC's UK corporate charity. Thanks to the support of the public, we're able to make a real difference to the lives of children all across the UK. How do we do this? Read all about our vision and how we operate below.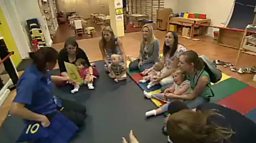 Our Vision
Our vision is that every child in the UK has a childhood which is:
Safe
Happy and Secure
Allows them the chance to reach their potential
What We Do
We provide grants to projects in the UK which focus on children and young people who are disadvantaged. We are local to people in all corners of the UK and support small and large organisations which empower children and extend their life choices.
We are currently supporting 2,400 projects all across the UK. The projects we fund help children facing a range of disadvantages for example poverty and deprivation; children who have been the victims of abuse or neglect or disabled young people.
Our grant programmes are open all year round for applications. We give our small grants awards four times a year and main grants three times a year. Click here to find out more about our grant programmes, to apply for a grant or to hear about some of the differences made to children's lives by grants from BBC Children in Need.
Our Calendar
The BBC Children in Need Appeal Night takes place every year in November. The Appeal show is a whole evening of entertainment on BBC One with celebrities singing, dancing, and doing all sorts of crazy things to help raise money.
There are also plenty of one-off specials of your favourite programmes, which in the past have included Doctor Who, Strictly Come Dancing, The One Show, EastEnders and much more!
Before we get to BBC Children in Need Appeal night, there is plenty going on around the UK. You can get lots of tips and ideas on how to get involved, including how to organise an activity in your local area, or there is plenty of fun stuff going on for you to take part in so there's something for everyone.
Financial Statement
In order to administer the Charity efficiently, fundraise creatively, manage the funds raised professionally and operate as an effective grant-maker, BBC Children in Need incurs costs.
When the Public donates a pound to BBC Children in Need, this is a pound that goes to help change the lives of disadvantaged children and young people. This includes the costs of ensuring our grants are allocated to excellent projects in communities across the UK making a tangible difference to young lives; monitoring and evaluating the project to ensure the money is being used to maximum effect and ensuring that grant making is supported, processed and governed responsibly.
All other costs not attributable to grant making are covered by investment income and gift aid.
Download the journey of your donation here
Download our latest annual report and accounts here
Can I Work for BBC Children in Need?
For all our vacancies go to the BBC Jobs site and search for BBC Children in Need. Also make sure you follow us on Twitter @BBCCiN for the latest job news.
Every penny makes a difference to children's lives right here in the UK. Thank you for your support