Three Things About Elsie by Joanna Cannon
About the Book
This is a hilarious and heart-breaking story, set against the background of befuddlement and Battenberg.
Florence Claybourne is eighty-four. She has fallen in her flat at Cherry Tree Home for the Elderly, and lies on a wipe-clean carpet, waiting to be rescued.
As she begins to tell her story, we find out Florence has a secret, a secret she promised herself she would keep forever. And she is worried her forever might be now.
About the Author
Joanna Cannon is the author of the Sunday Times bestselling debut novel The Trouble with Goats and Sheep, which has sold over 300,000 copies in the UK alone and has been published in 15 countries.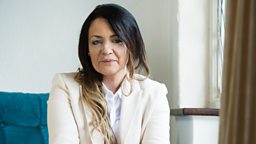 The novel was longlisted for the Desmond Elliott Prize, shortlisted for The Bookseller Industry Awards 2017 and won the 2016 BAMB Reader Awards Breakthrough Author category. Her writing has appeared in the Sunday Telegraph, Daily Mail and the Guardian, amongst others.
Joanna left school at fifteen with one O-level and worked her way through many different jobs – barmaid, kennel maid, pizza delivery expert – before returning to school in her thirties and qualifying as a doctor in her forties. Her work as a psychiatrist and interest in people on the fringes of society continue to inspire her writing, and Joanna currently volunteers for Arts for Health, an organisation bringing creative arts to NHS staff and patients.
She lives in the Peak District.