About the series
Part of BBC Radio Wales' commitment to new writing -'Driving Home For Christmas' is both an engaging road movie for the radio, and an online interactive journey exploring the process of writing short form drama.
Hapless gambler Daf is about to embark on the biggest challenge of his life. He just doesn't know it yet. He and his long suffering girlfriend Shelley are plunged into chaos when Daf's grief-stricken Mam throws their perfectly laid Christmas plans into complete disarray. She's not taking 'no' for an answer when she declares that she needs the whole family at home with her for Christmas this year in Aberystwyth.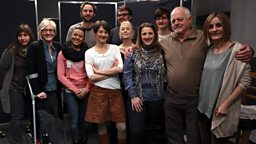 So at the 11th hour Daf and Rhodri, two very different brothers set out from opposite ends of the country to honour both their father's memory, and their mother's wishes.
Five writers in five locations spread across Wales have come together through an innovative collaboration to tell the story of a dysfunctional family battling their way towards the festivities, and more importantly, towards each other.
Along the way they will conquer their biggest fears and struggle to find the true meaning of love in all its various guises. This being a comedy drama, they will also come up against an awful lot more; those burning Christmas questions. What is the point of a rotisserie? What happens when you don't follow your Dad's advice to put a shovel in the car? And what is the Christmas food made from the rather unpleasant sounding Marsh Worts?
Join us daily on Radio Wales for our funny, fast paced new drama at 3.40pm 17th-21st December with a special Omnibus version at 6pm on Christmas Day.
In a video gallery here on the website you can hear for more from the writers and explore the people and places in the story on our interactive map.
You can even use Santanav to make sure you don't get lost on our interactive map.
'Driving Home for Christmas' was produced in Cardiff for BBC Radio Wales by Emma Bodger.
The cast includes Aled Pugh, Shelley Rees, Sharon Morgan and Robert Pugh.
The project is a collaboration between Radio Wales, BBC Radio Drama, BBC Wales Learning & Interactive and Cyfle.
It also utilises the extensive BBC archive as well as showcasing brand new drama from Cardiff based playwright Dafydd James, Valleys novelist Rachel Trezise, Swansea based TV dramatist Philip Ralph, Ruthin Playwright Kevin Dyer and novelist Niall Griffiths from Aberystwyth.
Join us online and on-air to find out what can possibly go wrong when you're just "Driving Home For Christmas" ...