Your ultimate guide to summer holiday reads
24 July 2018
Front Row's Summer Reads segment has been suggesting a host of brilliant books that holidaymakers should cram into their suitcases. We've collected all the expert recommendations here, with classic and contemporary choices perfectly matched to destinations all over the world.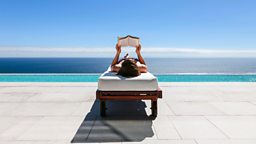 Bonjour Tristesse by Françoise Sagan (trans. Heather Lloyd)
Sarah Ditum of the New Statesman told Front Row on 3 July: "This is the ultimate French book. It's set on the Riviera, it's adultery, it's intrigue, it's artful… I read it when I was 15, and if you can recover the mindset of a teenager, which is what Sagan was when she wrote it, then you will enjoy it phenomenally. Just surrender to the extreme Frenchness of it."
Lullaby by Leila Slimani (trans. Sam Taylor)
Sarah says: "This has been a huge hit. It's a completely horrible book, actually! It's about a murderous nanny – the ultimate middle-class nightmare. It's incredibly gripping, which is what you want from a holiday book, right? You want something that you can't put down."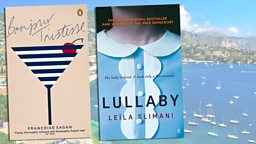 Malacqua by Nicola Pugliese (trans. Shaun Whiteside)
Sarah says: "This is an amazing, fascinating book. Malacqua, which translates as 'bad water', is about four days of torrential rain in Naples. It's incredibly weird and I absolutely love it. It's kind of Lynchian, it's dark, it's bizarre. It's full of the texture of Italian life in the 1970s."
Ties by Domenico Starnone (trans. Jhumpa Lahiri)
Sarah says: "There's some fantastic literature coming out of Italy at the moment, obviously very much driven by Elena Ferrante's massive success. Starnone's novel follows very similar relationship ground; it's about a disintegrating marriage; it's very intimately and beautifully told. If you're on the Ferrante train this will definitely be one for you."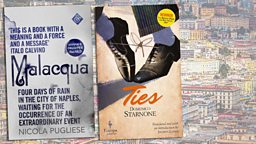 Alone in Berlin by Hans Fallada (trans. Michael Hofmann)
Sarah says: "This is one of the first anti-Nazi novels to be published after World War Two. It's based on the true story of a working-class couple who mount a quiet resistance against the regime by dropping postcards – which is a nice holiday detail, as well."
All the Lights by Clemens Meyer (trans. Katy Derbyshire)
Sarah says: "Meyer is based in Leipzig, which is quite a nice change – most of the literature we get from Germany in the UK is from Berlin, so it's great to have something from elsewhere. This is a collection of short stories, quite gritty at times, that really build up a picture of the whole country."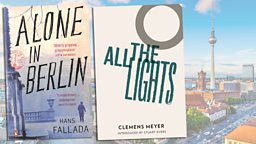 As I Walked Out One Midsummer Morning by Laurie Lee
Novelist and critic Stephanie Merritt told Front Row on 16 July: "In 1935, at the age of 19, Laurie Lee sets out with his violin and travels from Vigo in the north down to Andalusia, meeting musicians and poets, and he playing along the way. It ends in 1936 with the outbreak of the Spanish Civil War, so it covers a whole period of Spain that's lost to us now, but it's beautifully evoked."
The Lemon Grove by Helen Walsh
Stephanie says: "This is a very sexy book – and occasionally people's thoughts may turn that way on holiday. It's the story of a woman who has an affair while away in Majorca. Walsh writes very sensual prose and she evokes the landscape beautifully. It's really about what happens to English people when they go on holiday and shed their inhibitions in a beautiful place."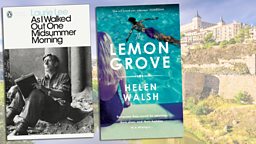 My Family and Other Animals by Gerald Durrell
Stephanie says: "I read this in my early teens before I went to Corfu for the first time and I thought it was wonderfully funny. It's a beautifully-written book about a boy and his discovery of this extraordinary place where he comes to live with his widowed mother and his brothers and sisters. People may have got to know the characters through the TV series but it's a wonderful thing to return to the book."
The Children of Jocasta by Natalie Haynes
Stephanie says: "This is a feminist retelling of the story of Oedipus from the point of view of two of the female characters who get very little to say in Sophocles' play: Jocasta, Oedipus's wife/mother and Ismene, his daughter/half-sister. To read these classical stories while you're there is a really fantastic thing because you can look out at this landscape which hasn't changed all that much in millennia and get a fresh take on it."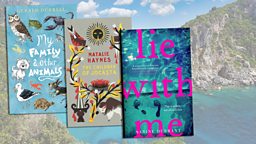 Lie With Me by Sabine Durrant
Stephanie says: "This psychological thriller is set in a villa on an island where there is a mystery of a missing child. The narrator is an unreliable character who has built his life on untruths and wheedled his way into this family's holiday. Gradually his lies start to become exposed, but none of these people can get away from each other."
Malta
The Information Officer by Mark Mills
Stephanie says: "This is a crime thriller set in 1942, during the Siege of Malta. A serial killer begins attacking young women on the island, and it's suspected he might be an officer in the British Army. The title character's job is to distribute news that will keep up morale, so it's quite timely in these days of fake news."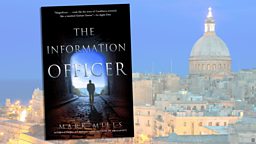 Nikolai Gogol's short stories (various translators)
Writer and translator Daniel Hahn told Front Row on 10 July: "Gogol used St Petersburg as the setting for half a dozen stories in the 1830s and thereabouts. They're cynical stories about the establishment and alienation; they're all about hapless minor civil servants. They're really funny, but it's an odd, quirky humour. They're of their time because they're all about bureaucracy and social rank, but they're also very much of their place."
The Siege by Helen Dunmore
Daniel says: "Dunmore was a great poet and children's author but she was also a really great novelist, and I think she was at her best with this book, set around the Siege of Leningrad. It doesn't do the big picture of the siege, because the characters aren't interested in that, but it really makes you feel how cold and difficult it was. It's also human and hopeful, so I hope it won't ruin someone's summer holiday."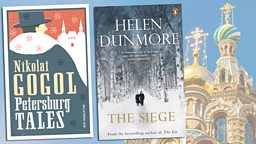 Anil's Ghost by Michael Ondaatje
Daniel says: "Even though the civil war is over, it does still loom very large in present-day Sri Lanka. Anil's Ghost is about a forensic pathologist who studied in the West and comes back to the country. She discovers a skeleton and tries to understand what's been happening to this place she's been away from for such a long time."
The Story of a Brief Marriage by Anuk Arudpragasam
Daniel says: "It's set against the backdrop of a war. A young man is in a civilian camp at the frontline of fighting, trying to escape the guerrillas. But it's a story in a way about finding somebody in this terrible situation, and how that changes you, because he is asked to marry a young woman in order to save her. Even though it's a very dark book in some ways, it's also incredibly touching and intimate."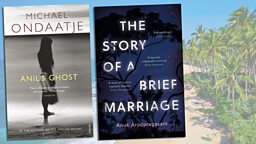 Too Loud a Solitude by Bohumil Hrabal (trans. Michael Henry Heim)
Daniel says: "It's a novella about a man who works as a paper-crusher in Prague, set at the beginning of the Socialist regime. Despite the fact that his job is to destroy the stuff, he also secretly collects books and collects knowledge. So it's about these things that he values, all this knowledge that he's acquired for himself."
Love Letter in Cuneiform by Tomas Zmeskal (trans. by Alex Zucker)
Daniel says: "This is a Congolese-Czech writer, and it's a love story – or possibly two love stories – but it's also very political, because of the social change in the background. It begins in 1968 with a wedding but it expands to portray a huge world over several decades, that is constrained and bureaucratic. The whole thing is told exuberantly: it's laced with fantasy, it's wildly digressive, it's deliciously, very blackly funny – it's a really masterful book."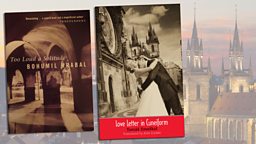 Finally, for those holidaying a little closer to home, Sarah Ditum offered some recommendations for destinations around the British Isles on 23 July.
For Cornwall, she suggests The Birds and Other Stories by Daphne du Maurier, saying: "Du Maurier wrote several books set in St Ives but my favourite is The Birds. If you only know it through the Hitchcock version set in San Francisco with Tippi Hedren, this is set in Cornwall with a gruff male protagonist trying to batten down his farmhouse against the invading hordes of starlings. It's absolutely terrifying."
For Wales, Sarah recommends The Water Cure by Sophie Mackintosh. She says: "It's about a family who occupy an island and there's been some kind of disaster on the mainland which means that men have become toxic to women. They've retrenched into this Shirley Jackson-like seclusion. It's atmospheric, very strange and completely captivating. There's such a strong sense of place."
For Scotland, Sarah's pick is The Outrun by Amy Liptrot. She says: "We've been living through a golden period for both memoir and nature writing, and even within a run of fantastic books, Liptrot really stands out. The Outrun is about her recovery from alcoholism, but it's also about the Orkneys, which is where she grew up. It has such an incredible sense of the history of the place."
For Somerset, Sarah suggests Persuasion by Jane Austen. She says: "If you read Austen in Bath, do pay attention to how much she absolutely hated this town. Persuasion is my favourite Austen novel – it's a mature book. Anne Elliot, the heroine, is right on the cusp of old maid-dom, and it's about whether she can reconcile with Captain Wentworth, to whom she was almost engaged."
For Suffolk, Sarah recommends A Clergyman's Daughter by George Orwell. She says: "Orwell spent some time in Southwold and this contains a fictionalised version of the town. It's early, social-realist Orwell rather than late political satirist Orwell. It's a really underrated mode of Orwell, and incredibly enjoyable."
And for Ireland, Sarah chose This Must Be the Place by Maggie O'Farrell. She says: "It's a classic holiday read, full of mystery and intrigue. It's about a reclusive film star who's cut herself off from the world in Donegal behind twelve gates where no one can get at her. Why has she sealed herself off? What's going on with her husband? It's absolutely beguiling and brilliant – you will bang through it."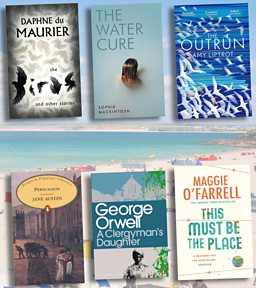 Image credits: Woman reading: Caia Image/Alamy | Nice, France: Freeartist/Alamy | Berlin, Germay: Sean Pavone/Alamy | Naples, Italy: Bill Chizek Photography/Alamy | St Petersburg, Russia: Sergey Borisov/Alamy | Tangalle beach, Sri Lanka: Tuul and Bruno Morandi/Alamy | Prague, Czech Republic: Robertharding/Alamy | Toledo, Spain: Sean Pavone/Alamy | Paleokastritsa bay, Corfu, Greece: Constantinos Iliopoulos/Alamy | Valletta, Malta: John Kellerman/Alamy | St Ives, Cornwall: eye35.pix/Alamy