Beswick Pottery
Beswick Pottery was established in 1892 in Longton, Stoke-on-Trent by James Wright Beswick and his sons John and Gilbert.
The company began by making domestic earthware and other popular wares, including Staffordshire dogs and cats. Production was slowed during WWI, but in 1918 it expanded its production line by purchasing the Warwick China Works. This allowed the company to produce bone china and other fancy ware.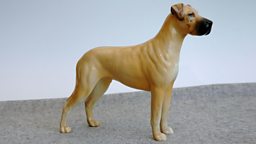 The Beswick name was on the rise, but sadly James passed away in 1921. It would be James' grandson, John Ewart Beswick, that would open up the next chapter for the Beswick name.
1934 meant increased competition for the Beswick business, as China began mass production of pottery. But it was this same year that Beswick introduced high fired bone china, meaning they could produce ever higher quality figurines, such as famous horses and champion dogs. Their wares proved popular and in 1936, the company became a limited company that began trading as John Beswick Ltd.
The company's success continued. In 1948, the Beswick name was put firmly on the map through gaining the rights to produce 10 of the Beatrix Potter characters, the first of which being of Jemima Puddle-Duck created by designer Arthur Gredington. Beatrix Potter characters would become Berwick's most famous wares, and it was this success that also saw Beswick granted the rights to produce characters from Disney in 1952.
After many successful years, the Beswick name was sold to Royal Doulton in 1989, at which time the production of Beatrix Potter characters was halted. The characters were briefly reprised for the collectors market in 1998, but sadly by 2002 it had been decided that the market had been saturated and the production of all Beswick products ceased.
Flog It! top tips
Look out for items designed by Arthur Gredington, who made both realistic and stylised animal models from 1939, including the Beatrix Potter characters. Of these, the earliest are the most sought after.
The rarest of all Beswick wares is the Spirit of Whitfield, the Beswick pony, modelled after the pit pony Kruger. An example of this item sold for £9,500 at Bonhams Bond Street in 2003.