How to pimp up your porridge
Until very recently, porridge was an old-fashioned something you made with oats and water and a pinch of salt. And if you were a Scot, that was it. If you were from south of the border you might have added milk or cream, sugar and possibly a sliced banana, but that was as wild as it got...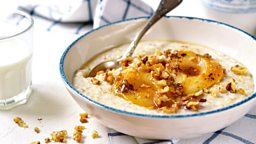 But porridge wildness is now widespread and, as I discovered on The Food Programme, it comes in many exotic guises.
There are porridge restaurants — I went to one and had the Egg and Spinach. Then I tasted my producer's Hazelnut and Butter porridge which, along with the obvious, was made with almond milk, cinnamon, coconut palm sugar and apple, plus a sprinkling of flower petals.
Then in my own kitchen, three cooks went even wilder! Musician and chef Levi Roots produced a sweet risotto porridge with bay leaves, vanilla, nutmeg and coconut milk. Top Danish chef Trine Hahnemann used rye, spelt and oat flakes with apples, almonds and raisins to make a perfect Scandinavian bowl of comfort. And Shirley Spear, doyenne of Scottish chefs, made it pure and simple: oats, water and salt — and showed us all what simple perfection means.

Trine Hahnneman's Scandinavian porridge
This rustic recipe serves two for either a morning or an evening meal.
Ingredients:
125g mixed flakes e.g. oats, rye and spelt
300ml water
1 apple, cored and diced
40g almonds, chopped
40g raisins
Pinch of salt
Cold milk to serve (optional)
Method:
Put the flakes, water, apple, almonds and raisins in a small saucepan, bring to a boil and lower the heat and let them simmer for 12-15 minutes, stirring frequently, then add the salt and serve right away, with cold milk if you like.
Five tips for better porridge
1. For extra crunch, try adding spelt flakes or using jumbo oats which have not been soaked overnight. Deliciously chewy!
2. Make porridge the Scandinavian way by adding chopped almonds. Or the Jamaican way by adding almond essence and bay leaves! (See our full recipes on this page.)
3. Eat it the way the Scots recommend: standing up. The old custom says this helps digestion. But then custom also recommends stirring it anti-clockwise to stop the devil getting in!
4. Eat it with a horn spoon to avoid burning your mouth.
5. Add a dram of whisky on special occasions.
Whichever way you eat it, eat it often. Porridge is healthy, as proven by a large US study. If you make porridge a regular part of your diet, you'll lower your risk of heart disease and diabetes.

Levi Roots' Jamaican porridge
Ingredients:
175g organic porridge oats
720 ml water
400ml can coconut milk
½ tsp all spice ground
A cinnamon stick or ½ tsp ground cinnamon
A good grating of nutmeg or ½ tsp ground
1 bay leaf
Large pinch of salt
1 tsp vanilla essence
1 tsp almond essence
Sweetened condensed milk to taste
Method:
Put the water in the pan in which you want to cook your porridge. Add the spices and bay leaf and bring to a simmer. Stir in the coconut milk and add the salt.
Add the porridge oats to the fragrant spiced liquid, bring to the boil and then turn down the heat to a gentle simmer for 5-10 minutes, stirring often. Personally, I don't like porridge too stiff, I like to make sure it can still move around the pan, adding more coconut milk or water if necessary.
Spoon your porridge into bowls and add whatever takes your fancy. I like my porridge sweet so add a bit of condensed milk.
Which Bob Marley song has a verse about cooking porridge?
Chef Levi Roots sings some Bob Marley as he prepares his favourite Jamaican porridge.

Shirley Spear's Scottish porridge
"The habit of making porridge with milk in the microwave is all wrong in my opinion and stems from the era of 'Ready-Brek'," says Shirley Spear.
"There are die-hards who will never make porridge without steeping oatmeal in water overnight before cooking it in the morning in customary style and serving it piping hot with a bowl of cream or fresh, cold milk on the side. The skill comes with knowing exactly when to add the salt, which should be done part-way through the cooking process."
This recipe serves one.
Ingredients:
1 cupful of rolled porridge oats
2 cupfuls of cold water
1 good pinch of cooking salt
Method:
Place the oats and water in a saucepan.
Place over a medium heat and bring slowly to the boil, stirring from time to time.
Once it comes to the boil and is starting to thicken, reduce heat to the lowest simmer, add the salt and cover the saucepan with a lid.

Feeling peckish?
These pairings may sound unusual, but they are delicious.