Rogue Traders: Renov8 North West Ltd
We all want a roof over our head, but lots of unhappy customers wish they hadn't asked Renov8 North West Limited, based in Manchester (not to be confused with companies of a similar name) to tend to their tiles.
The company is run by Darren Potts, also known as Daz, but he doesn't always live up to his clean namesake.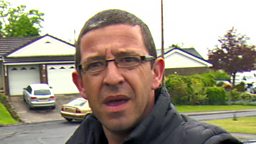 Lauren Carr bought an online voucher worth £130 for a roof cleaning and repair service by Renov8 North West ltd. They cleaned and painted the UVPC on her roof, but the paint started to peel off the very next day leaving it in a very unsatisfactory state. She also paid £150.00 for extra work they promised to complete but never actually carried out at all.
Lauren explains that her roof has been left in a state and was left with an unwanted repair bill of nearly £1,200.
'We've had both a surveyor and a builder out who've said that it should never have been painted in the first place because it's UPVC and that it all needs replacing'
Lauren tried phoning Renov8 North West ltd straight away, but nobody answered her calls or responded to any of her emails.
She told us that, 'It is money we don't have at all unless we cancel our honeymoon.'
The Rogue Traders team decided to put Renov8 (North West) to the test.
Undercover researcher Bridie booked Renov8 (North West) to clean a roof and a driveway. This would normally cost £900.00 but were charged a total of £360.00 via an online promotion.
The cost of this service included a full high pressured jet wash of the roof plus maintenance of the roof, which included cleaning out the gutters and replacement of up to ten roof tiles.
The team also paid for a fungicidal spray to be applied to the whole surface, the driveway to be jet washed, paved areas to be removed of dirt, moss, algae and stains.
Daz and his assistant Connor turn up at our staged house and explain to Bridie what the job entails,
Watching on with a careful eye is roofing expert and chartered surveyor, Barry Cross with over thirty years experience.
Bridie leaves the house to let Daz and his assistant start the work.
However just fifteen minutes in and they are observed taking several rest breaks to have a cigarette, reading the newspaper and sending text messages. Assistant Connor even decides to have a little nap on the bench.
But what if Researcher Bridie questions their work ethic? Darren tells Connor what to say:
'If she comes back just say oh yeah I have to have a break for health and safety.'
Back to the day job and Connor sprays our roof with a pressure washer and water is cascading on to the electrical extension lead down below. He doesn't seem too concerned about safety as he walks along the slippery roof.
Anxious expert Barry watches on hoping 'he has nine lives'.
On one of his supposed health and safety breaks, Connor decides to try and charge his phone in a way that shocks the Rogue Traders team.
He starts sawing a piece of dissuaded wet cable that he found in our home owners garage to try and make a phone charger. The charger is wet, the extension lead is wet and water and electricity do not mix.
Barry and Matt Allwright look on in horror praying Connor will not do something irresponsible.
In fact it's so dangerous that the team intend on turning off the property's electricity supply, but Darren returns just in time to interrupt Connor's gadget making.
When Researcher Bridie returns, she is told that they have applied an anti-fungal treatment within the jet washer to kill the moss. Our roofing expert, Barry Cross, says no treatment has been applied – it's purely water.
The type of product they claim to have used isn't even suitable for jet washers.
Darren and Connor leave and we assess their work. There are now pools of water inside our garage, the gutters are full of mud and the muck that fell out of those gutters has blocked the drains.
When our undercover researcher calls Darren to complain, he says he will come back and take a look. But he doesn't show up.
So we give Renov8 (North West) a second chance, this time with another undercover researcher called Mia and a new staged house with a mossy roof.
Expert Barry and his team also make minor faults with the tiles, chipping and cracking them to the extent they would need replacing. A competent contractor should be able to easily spot and rectify. But did Renov8 North West Ltd spot this?
This time the Rogue Traders team buys an online deal for a roof maintenance package for £279.00. This includes replacing up to ten broken and cracked tiles and re-pointing the roof ridges. It normally costs £895.00 but thanks to the wonderful world of Internet shopping, the teams managed to get a hold of a discount.
Darren and Connor arrive on time to meet Researcher Mia. Just as they start assessing the roof, Connor tells Mia she has even more problems that will need fixing.
'See where the lead is here, it's a bit eroded. It's like really damaged. If you want it re-doing we can take the lead off and re-batten it all back.'
But it's once again unimpressive work. They both have little regard for safety and fill their time with smoking and texting on the rooftop once again.
The final bill is £279.00 for the supposed anti-fungal wash, broken and damaged tile replacement, and for the re-pointing of all roof ridges.
Darren tells Researcher Mia that the tiles didn't need replacing, but Connor assures Mia that the pointing has been redone as well as the extra gutter and chimney work that they took an additional £50 for.
But what have they actually done?
Expert Barry takes a look after Renov8 North West Ltd leave.
Barry notes that the only work carried out was a pressure wash on the roof, for which hundreds of pounds was paid for. The gutter work is to a poor standard, the chimney hasn't been touched and water has come through into the loft.
Matt Allwright and the team decide to pay boss Darren Potts a visit.
So we have another house and another undercover researcher. This time Darren Potts is brought to the property under the guise that he will be having a meeting with a property magnet.
Darren isn't very pleased to see Matt and storms out the house, pushing our cameraman along the way.
Company Response
DARREN POTTS OF RENOV8 NORTH WEST LTD SAYS:
This investigation is not a true reflection of the service we offer. Out of the thousands of customers we have serviced, two properties do not represent a true reflection.
We are human and mistakes will happen. Some of the findings are inaccurate; the anti fungicidal wash is used on all properties and is in the dispenser of the pressure washer before we arrive at all jobs. This is not as you say, used to clean the roof.
It is used to treat the roof at the end of the process and we buy this from a retailer who advises that it is effective through the machine. We have never had a remedial for re-growth of moss, lichen, or algae, so the findings are inaccurate.
As for broken tiles there were no broken tiles before works commenced or when we left the properties.
Other failures such as a staff member cutting a cable is shocking and has been dealt with internally, as with me Going to the toilet, for this I am ashamed.
But leaving us on a set up property for 9 hours with no facilities is poor. I was not aware of any charge being made to Mia Shah by our staff member for replacing a baton; again this has been dealt with internally.
We are happy that these points have been brought to our attention and have rectified our complacency.
Published 12 June 2013
Elsewhere on BBC Watchdog
Find more reports on rogue traders that the team have been hunting and confronting for giving customers a raw deal.