Slingerland guitar c1944
This guitar was bought in 1944 by the owner's father, who played it Hawaiian style, because of this it is known as a slide guitar.
It was made in the late 1930s in Chicago, USA. The owner still has the original purchase receipt for this Slingerland Maybell, which is a nice addition to its provenance.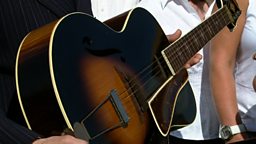 It is a beautiful example of a high quality guitar and would be worth around £1,000 today.
Did you know? Hawaiian Joseph Kekuku is acknowledged inventing the steel guitar when in 1885, at the age of 11. He was "fooling around" with his guitar, sliding different objects across the strings to see what sounds he could produce.
Did you know? The first guitar Jimi Hendrix set alight on stage was sold at auction in 2008 for £280,000.
Get the app that lets you join in by guessing the values of items featured in the show.