500 Words Judge Area
Applications for registering to be a 500 Words judge have now closed.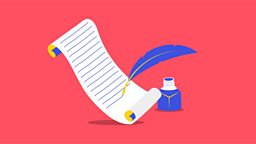 8000 teachers and librarians offered up their time to judge the thousands of sensational stories that we received in 2016
What Happens Next?
Approved judges will receive a batch of randomly allocated stories (around 20) in late February, which you'll have just over 3 weeks to mark. We make sure that our judges don't receive any stories from writers in their own region, so there's no chance of you accidentally being asked to mark a story from your child or class!
2017 judges will also be entered into a random ballot to receive tickets to attend the 500 Words Final at the Tower of London on Friday 16th June!
BROWSER SUPPORT: If you are having trouble with the site, please try loading it in a different browser, such as Internet Explorer, Chrome or Firefox, as it may be that your browser is not up to date. Simply copy and paste the link into an alternative browser. If you are still having trouble, do drop us an email 500words@bbc.co.uk and we'll get back to you as soon as we can.
For more information about the 500 Words competition and becoming a judge, please read out FAQ and Rules pages.